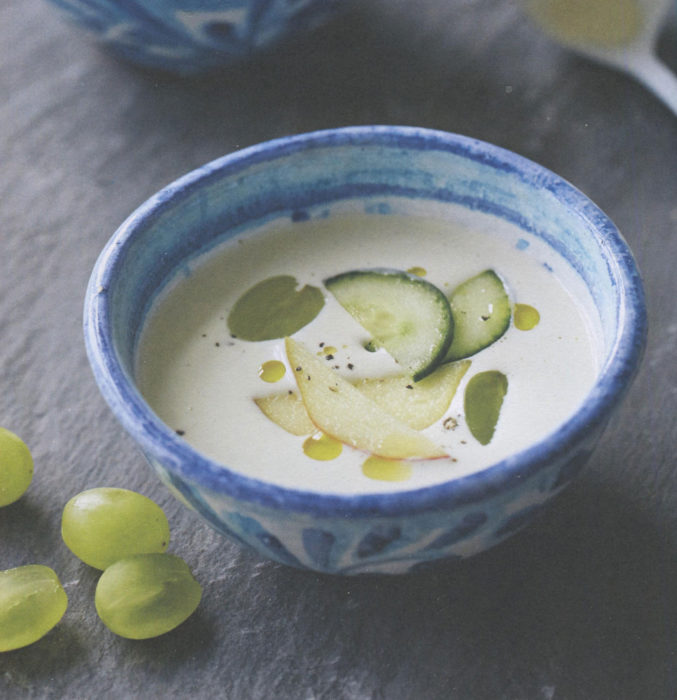 Sometimes this recipe is confusingly called "White Gazpacho." It's actually tomato‑free, but does incorporate the stale bread of "authentic" gazpacho, a peasant dish that was decidedly not "upscale" when first created.
If you were living in Spain, you would blanch the almonds here yourself. Most of us will buy the almonds and authors Rebecca Seal and John Vincent of Leon Happy Soups really don't mind.
This soup is rich and quite, quite garlicky. The authors suggest you serve in small quantities. I assure you that is quite a solid suggestion.
---
Ajo Blanco
Yield: serves 4 as a small appetizer
Ingredients:
1 slice of slightly stale white bread, crusts removed
¾ cup blanched almonds
2 cloves of garlic, crushed to a paste
7 tablespoons extra virgin olive oil
1 tablespoon sherry vinegar
Generous 1 to 1 ¼ cups ice-cold water
Salt
Garnish with extra virgin olive oil, halved apples and sliced cucumbers and apples
Preparation:
Rip the bread into small pieces. Place in a bowl and cover with a couple of tablespoons of water; let soak for 5 minutes.
Put the soaked bread, blanched almonds, garlic paste, oil, vinegar, and a pinch of salt into a blender, along with 7 tablespoons of the ice-cold water. Process until completely smooth, scooping any unblended almonds up from beneath the blades with a spatula. Add more water as necessary until the soup has a rich pouring consistency, about that of whipping cream. Chill for at least 2 hours before serving. Taste and add more salt or vinegar, if necessary, after chilling.
Garnish as you wish.
---
Source: Leon Happy Soups by John Vincent and Rebecca Seal [Conran, 2017]