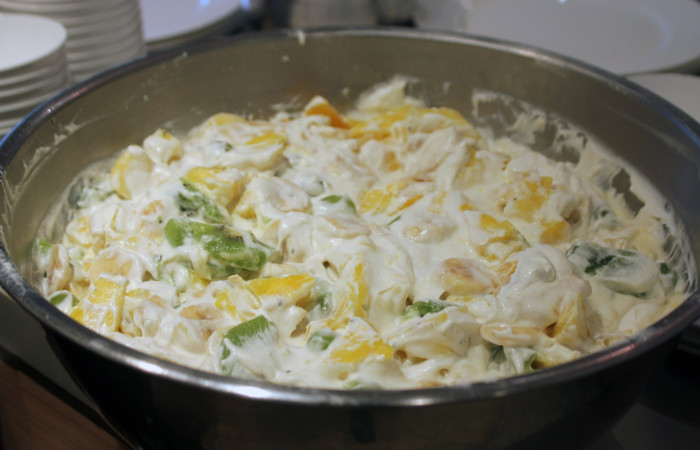 In Greek mythology, ambrosia was the food of the gods. What better way to conclude a brunch than with an Ambrosia Fruit Salad, filed with fruit, yogurt, coconut, whipping cream, …
And miniature marshmallows. I'm not kidding. It's listed as an optional ingredient below. We offered this for a family brunch a couple of weeks ago and tactfully left the marshmallows out. The recipe already was feast for man or gods.
Despite the Greek gods reference, ambrosia appears to be an American creation form the early 19th century, probably in the south. It is the coconut that distinguishes ambrosia from a pack of sibling recipes. And no, while people speak in mythology ambrosia no one ever penned the recipe used by the gods.
So, maybe we should have included the marshmallows? Can you picture them sitting on Mount Olympus, around a fire pit, making s'mores. I can't. It's just not dignified.
Ambrosia Fruit Salad
Yield: 2 pounds or 16 2" patties
Ingredients:
2 cups cubed fresh pineapple
2 large navel oranges, peeled and sectioned
1 ½ cups green grapes
1 cup miniature marshmallows (optional)
1 large banana, sliced
½ cup flaked coconut
¼ cup chopped almonds
¾ cup (6 ounces) vanilla yogurt
¾ cup heavy whipping cream
Preparation:
In a large serving bowl, combine the first seven ingredients.
Whip the heavy whipping cream and yogurt together until well blended, then gently fold in fruit to yogurt mixture. Chill until serving.
Source: Alton Brown, of course
Photo Credits: Canon T2i, 18-55MM Macro lens, F/5, 1/60th second, ISO-250