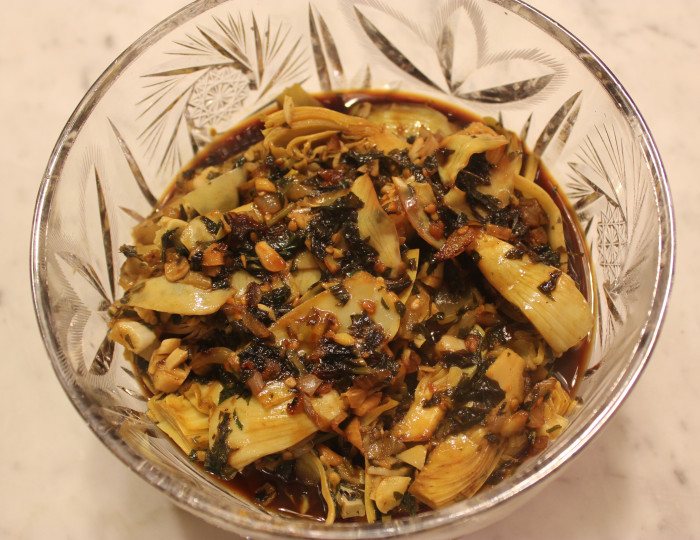 Saveur magazine has just published a collection of world-wide recipes to celebrate their gallant first 20 years. Here's a link to my cookbook review.
And here, on the same day, is a recipe I could not resist. This artichoke dish is from Aleppo, a town now sadly in the news because of the Syrian civil war. Aleppo has been a city for eight thousand years and seen tides of different civilizations enter, thrive, and establish culinary ideas. It's about 75 miles inland from the sea, surrounded by farmland to the north and west, farmland famous for their olive and pistachio trees. To the east, the desert begins. Aleppo was the end of the Silk Road that stretched across desserts, plains and mountains to China. That trade made Aleppo rich, famous, and the focus of rivalries that continue to this day.
Politics and conquerors aside, Aleppo is truly a world center for cuisine. This dish is typical in its simplicity and yet bombastic flavor. And its sheer beauty. Quickly prepared, it will be lastingly enjoyed.
---
Artichokes in Cilantro and Pomegranate Sauce

Yield: serves 4

Ingredients:

2-3 medium tomatoes, halved
3 tablespoons extra-virgin olive oil
1 medium onion, finely chopped
8 cloves garlic, minced
¾ cup finely chopped fresh cilantro
Kosher salt, to taste
8 artichoke hearts, halved if large
Water
2 tablespoons pomegranate molasses
Preparation:

Place the tomatoes in a medium-mesh sieve set over a small bowl. Use a spoon to press juice through. Reserve juice; discard seeds and skin.
Heat oil in a skillet over medium-high heat. Add onion and cook for 2 minutes. Stir in garlic and cilantro, season with salt, and cook until fragrant, about 1 minute.
Reduce heat to medium, add reserved tomato juice, artichokes, and 1 cup water, and simmer until liquid is reduced by half, about 15 minutes. Using a slotted spoon, transfer artichokes to a serving platter. Increase heat to medium-high, add pomegranate molasses, and cook, stirring constantly, until sauce thickens, 1-2 minutes. Spoon pomegranate sauce over artichokes and serve.
Photo Information [top picture]: Canon T2i, EFS 60 mm Macro Lens, F/4 for 1/30th second at ISO‑500