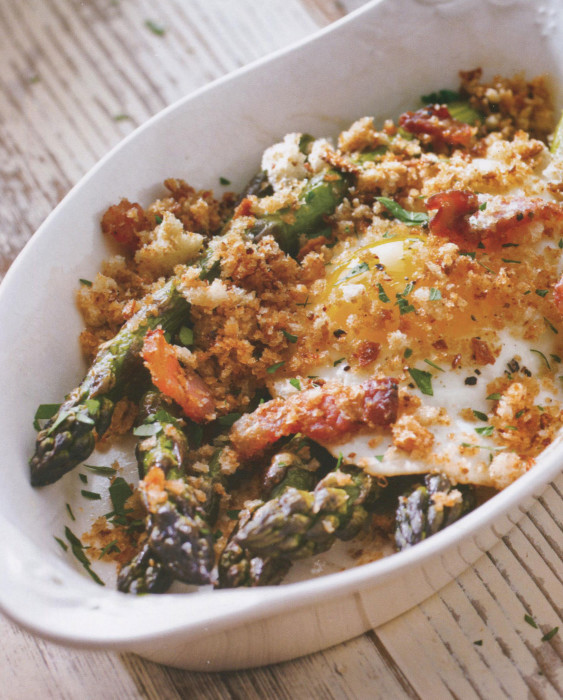 We have two weeks of spring left and perhaps a few more of "spring" asparagus. In Breakfast Comforts Rick Rodgers encourages us all to spend more time in our kitchens crafting a healthy breakfast. In a busy world, that's a big request. But that challenge is specifically why Rick has filled his lively book with recipes to encourage you "to look twice, savor quickly and cook away."
What could be more healthy for breakfast than asparagus? Okay, it may be a bit unexpected to see asparagus on your place before noon, but in this version — accompanied by fried egg and pancetta and bread crumbs — you may find yourself with an indispensable breakfast companion.
You can prepare this dish is less than 30 minutes. But you may choose to linger over those asparagus spears for a leisurely start to your day.
---
Asparagus and Fried Eggs with Pancetta and Bread Crumbs

Yield: serves 4

Ingredients:

1 pound plump asparagus, trimmed
4 olive oil
Kosher salt and freshly ground pepper
¼ pound pancetta, chopped
1 cup fresh bread crumbs
4 large eggs
Chopped fresh flat-leaf parsley, or other herbs of your preference, for serving
Preparation:

Preheat the oven to 400°F. Spread the asparagus in a single layer on a rimmed baking sheet. Drizzle with 1 tablespoon of the oil. Roll the asparagus in the oil until lightly coated. Roast until the asparagus are just tender, about 10 minutes. Season with salt and pepper.
Meanwhile, combine the pancetta and 1 tablespoon of the oil in a large frying pan. Cook over medium-high heat, stirring occasionally, until the pancetta is browned, about 8 minutes. Using a slotted spoon, transfer the pancetta to paper towels to drain. Add the bread crumbs to the fat in the pan. Cook, stirring often, until crisp and browned, about 1 minute. Return the pancetta to the pan and stir well. Transfer the pancetta and bread crumbs to a plate.
Add the remaining 2 tablespoons oil to the pan and warm over medium heat. One at a time, crack the eggs into the pan. Season with salt and pepper, cover, reduce the heat to medium-low, and cook until the whites are set, about 2 minutes for sunny-side-up eggs. Or carefully flip the eggs and cook to the desired doneness.
Divide the asparagus among 4 individual serving dishes or plates. Top each serving with an egg and sprinkle generously with the pancetta and bread crumbs. Garnish with the parsley and serve at once.
Source: Breakfast Comforts by Rick Rodger [Weldon Owen, 2013]

Photo Credit: Maren Caruso