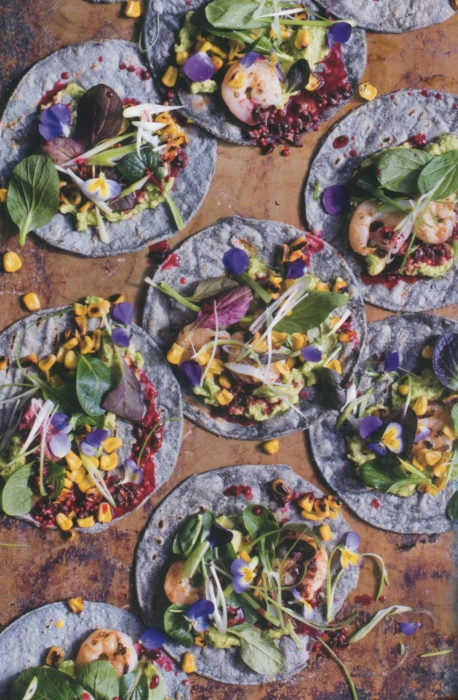 I recently explored The Cacao Cookbook. Yes, there is hot chocolate along with an explanation of the differences between cacao and cocoa. Unless you are really hardcore, you don't eat cacao itself. But you can cook with it many ways. It's not the "biggest" ingredient in dishes. Just a little. But, this Food of Gods is mighty in flavor. Consider, for example, using cacao in a vinaigrette and pairing with shrimp. It's a lovely idea that will surprise the folks at your dinner table. I imagine that cacao and avocado are a pairing that only Aztec royalty once enjoyed. Now you can.
The Cacao Cookbook will be in stores on November 6. I suggest you invest in the futures market. Order the book, orders some cacao nibs. Salivate.
---
Avocado Shrimp Tortillas with Blood Orange Cacao Vinaigrette
Yield: serves 2
Ingredients:
For the shrimp:
1 medium avocado
Juice of ½ lime (about 1 tablespoon)
½ teaspoon sea salt
½red chili, seeded and finely chopped
1 tablespoon olive oil
7 ounces raw and peeled jumbo shrimp
For the dressing:
1 ½ teaspoons cacao nibs
Juice of 1 blood orange
1 teaspoon cacao powder
½ teaspoon coconut palm sugar or dark brown sugar
2 tablespoons avocado or extra virgin olive oil
Sea salt
To serve:
6 corn tortillas, warmed
1 cup corn kernels, drained
½ cup torn cilantro leaves
2 cups Asian greens or other greens of choice
Edible flowers, such as violas (optional)
Lime juice
Preparation:
Halve and pit the avocado and scoop the flesh into a bowl along with the lime juice, salt, and chopped chili. Mash into a guacamole-type texture.
For the dressing, toast the cacao nibs in a dry skillet over medium heat for about 15 seconds. Mix the blood orange juice with the cacao powder and coconut palm sugar, then pour in the avocado or extra virgin olive oil and stir gently to combine. Season to taste with a little sea salt and set aside.
Put a ridged grill pan over medium-high heat and add the olive oil. Season the shrimp with sea salt, and when the pan is hot, grill the shrimp for 20-30 seconds on each side, until just cooked.
To assemble the tortillas, spread some avocado mixture over each warm tortilla and top with one or two shrimp. Sprinkle with the corn kernels, cilantro, greens, and edible flowers, if using, and drizzle with the cacao dressing. Squeeze some extra lime juice over the top.
---
Source: The Cacao Cookbook from the Editors at Aster [Aster, 2018]