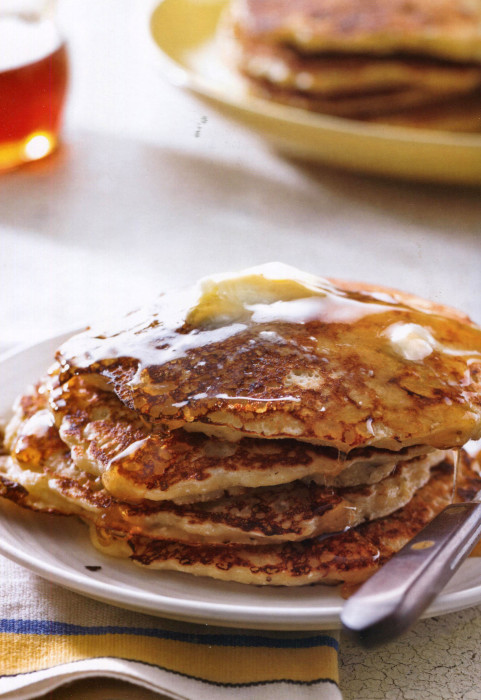 This is an intriguing recipe from Breakfast Comforts by Rick Rodgers. The name here is actually a bit redundant for johnnycakes are always made with cornmeal. They may look like pancakes, but they are the creation Native Americans and have been prepared for centuries. Today, a johnnycake is most often found in New England, but you can find them too in the Deep South, named there as hoecakes.
The dish is enjoyed on the Eastern Seaboard, from Canada to the Caribbean. The "hoecake" name comes from a particular iron pan that was used to prepare them. The term hoecake was used in writing by Washington Irving, yes, that Irving. They have been an American staple for a long time, although you probably have never enjoyed even one.
Here, in his fashion to make something good even better, Rick accelerates and expands the flavors. Crumbled bacon and cheddar cheese — along with maple syrup of course — make for a flavor profile that is sweet and salty combined with a texture of softness studded with those bacon pieces and the crunch of cornmeal. This is a dish that will make you happy to march out into the morning mists.
---
Bacon-and-Cheddar Cornmeal Johnnycakes

Yield: serves 4

Ingredients:

1 tablespoon canola oil
4 thick slices applewood-smoked bacon, coarsely chopped
1 ⅔ cups white cornmeal, preferably stone-ground
⅓ cup all-purpose flour
1 teaspoon sugar
1 teaspoon baking powder
½ teaspoon fine sea salt
1 ½ cups whole milk
2 large eggs
1 cup shredded sharp Cheddar cheese
Unsalted butter, at room temperature, for serving
Honey, pure cane syrup, or pure maple syrup for serving
Preparation:

Preheat the oven to 200°F (95°C). Have ready a rimmed baking sheet.
In a large frying pan, heat the oil over medium heat. Add the bacon and cook, stirring, until crisp and golden, about 6 minutes. Using a slotted spoon, transfer the bacon to paper towels to drain. Pour off and reserve the fat, leaving a film of fat in the pan.
In a large bowl, whisk together the cornmeal, flour, sugar, baking powder, and salt. In a medium bowl, whisk together the milk, eggs, and 2 tablespoons of the reserved bacon fat. Pour the milk mixture into the flour mixture and whisk just until combined. Fold in the bacon and cheese.
Reheat the frying pan over medium heat until hot. For each johnnycake, pour about ¼ cup of the batter into the pan and cook until bubbles form on the surface, about 1 ½ minutes. Flip and cook the other sides until golden, about 1 minute more. Transfer to the baking sheet and keep warm in the oven. Repeat until all the batter is used, greasing the pan with more reserved fat, as needed.
Serve the johnnycakes piping hot, with plenty of butter and honey, cane syrup, or maple syrup.
Source: Breakfast Comforts by Rick Rodger [Weldon Owen, 2013]

Photo Credit: Maren Caruso