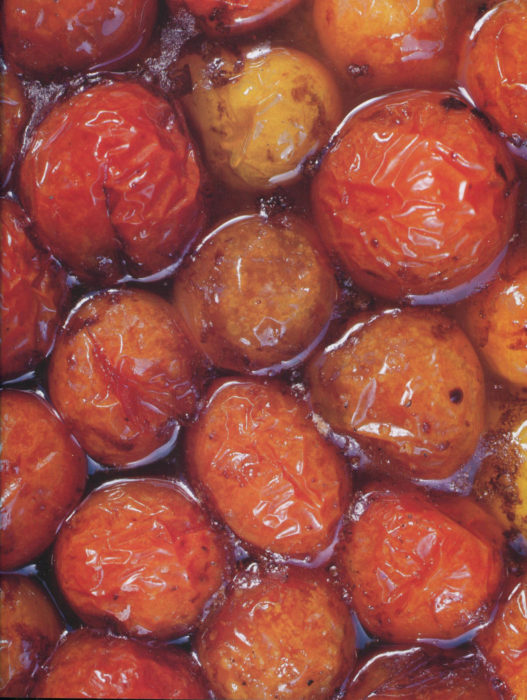 I'm in full comfort food mode. It's winter and the football playoffs are about to end with the winning teams headed to the Super Bowl. It's the perfect excuse to go all out for healthy junk food. Oh, this really isn't junk food at all, but it's a bit rich.
This is a combination of garlic, anchovy, tomatoes and cheese applied to bread and then consumed with lots of napkins. The recipe calls for using your grill, outside I presume, but you can use your broiler or be creative with a cast iron pan. This idea is an extension of traditional bagna cauda, which translates to "hot bath." It Italy, anchovies and garlic are bathed in warm olive oil to create a melded amalgam of flavors in an unforgettable dip. Here, the garlic and anchovies are extended to a full dish of substance.
Gooey, delicious and quite appropriate for the times and the weather.
Bagna Cauda Fettunta
Yield: serves 8
Ingredients:
7 garlic cloves, peeled
¼ cup extra-virgin olive oil, plus more for brushing the bread
8 tablespoons (1 stick) unsalted butter
¼ cup anchovy fillets, rinsed
Freshly ground black pepper
4 slices boule or other hearty loaf
½ cup whole-milk ricotta H
1 ½ cups blistered cherry tomatoes
Preparation:
Preheat a grill to high heat.
To make the sauce, slice 6 of the garlic cloves paper-thin.
Heat the oil and butter in a small saucepan over low heat until they've warmed and the butter foams. Add the garlic, anchovy fillets, and a crack of pepper and cook for 5 minutes. Transfer to a food processor or blender and puree.
Now, assemble the fettunta. Cut the remaining garlic clove in half. Brush each side of the bread slices with olive oil. Toast the bread on the cool part of your grill or in a skillet set on your stove over medium heat, then rub the halved garlic clove on each side. Place the bread on a cutting board.
Spread as much of the bagna cauda on each slice of bread as you'd like, then top each with 2 tablespoons of the ricotta. Pile the blistered tomatoes on top. Serve.
If you have leftovers [highly unlikely], the remaining bagna cauda can be refrigerated for up to 3 days. It also can be used as a dip for raw vegetables.
Source: Flavor Bombs by Adam Fleischman [Houghton Mifflin Harcourt, 2018]