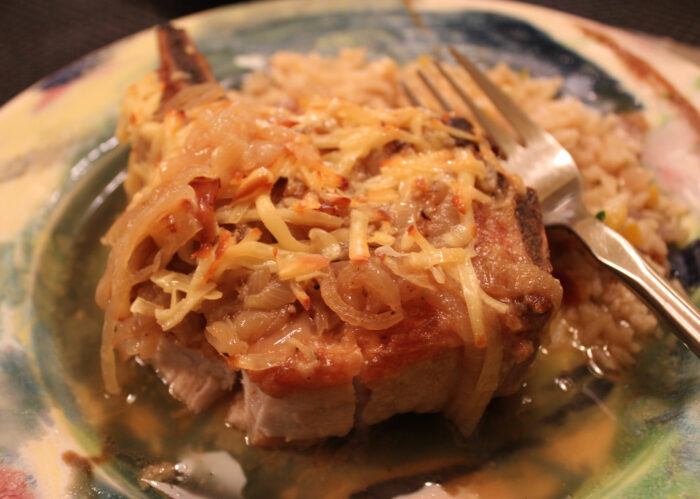 This is a recipe from Betty Rosbottom's American Favorites, a glorious book I have review for TBT. Betty's mom was true Southern cook. She made pork chops, actually smothered pork chops. Her mom buried the chops in onions and Betty has "modernized" the recipe by adding a final round of smoked Gouda cheese.
Betty's mother would approve.
We served this dish at a small dinner party and the conversation went silent. Everyone seemed quite focused on their pork chops.
Berry's mother would approve.
So will you.
[Yes, in the picture there is one bite out of the pork chop. Pardon me, but I just had to try it before taking the photo. The onions and Gouda smelled very, very good.]
---
Baked Pork Chops with Caramelized Onions and Smoked Gouda
Yield: serves 8
Ingredients:
8 lean center-cut pork chops, cut ¾-1 inch thick (7 -8 ounces each), trimmed of excess fat
Salt and freshly ground black pepper
1 cup all-purpose flour
4 tablespoons vegetable oil ( divided), plus more if needed
8 cups sliced onions
1 teaspoon sugar
4 teaspoons chopped garlic
About 4 cups beef broth, plus more if needed
¾ cup ( 3 ounces) grated smoked Gouda (grated with rind)
3 tablespoons chopped fresh flat-leaf parsley for garnish
Preparation:
Arrange a rack at center position and preheat oven to 350°.
Season chops generously with salt and pepper and dredge in the flour. Pour 2 tablespoons oil into a large, heavy skillet and set over medium-high heat. Add half of the pork chops or as many as will fit comfortably in a single layer. Brown well, about 4 minutes per side. Place the chops in a large oven-to-table baking dish. Repeat with the remaining chops using more oil, if needed.
Add the remaining 2 tablespoons oil to a skillet or enough to coat the bottom with a thin layer and heat until hot. Add onions and cook slowly stirring over medium heat until onions start to brown, about 6 minutes. Sprinkle with sugar and continue to cook, stirring, until onions are well-browned about 10 minutes. Add garlic and cook for 1 minute more. Arrange onions on top of chops and add 4 cups broth. Chops should be just covered with liquid. If necessary, add more broth or water.
Cover dish with a lid or with aluminum foil. Bake until tender when pierced with a knife, 45 to 60 minutes. (Pork chops can be prepared ahead to this point; cool, cover and refrigerate. They can also be frozen. Defrost to room temperature before reheating. Reheat, covered, in a preheated 350°F oven until hot, 15 to 20 minutes.)
To finish the dish, remove the lid and sprinkle cheese over chops. Bake, uncovered, for about 5 minutes more, or until cheese is melted and getting crispy. Sprinkle chops with parsley before serving.
---
Source: The Thanksgiving Cookbook by Holly Garrison [Wiley, 1991]
Photo Information: Canon T2i, EFS 60mm Macro Lens, F/4 for 1/30th second at ISO‑1250