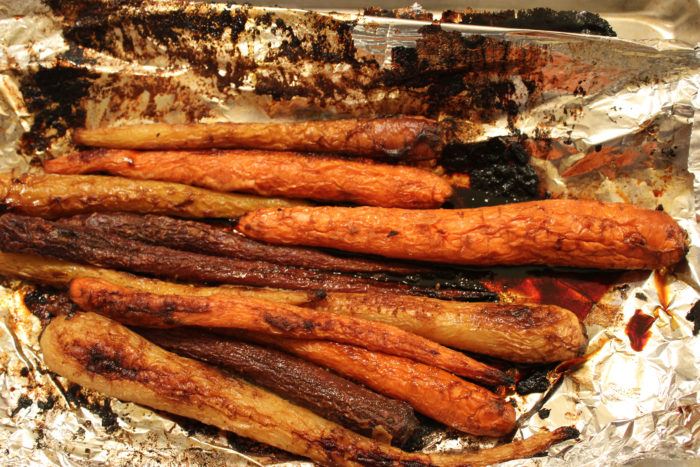 Summer veggies are already loaded with hidden sugars, just awaiting oven heat to bring them out in caramelization. The combination of sweet sugar with tangy balsamic vinegar is the perfect coating for carrots. This is a side dish with bold flavor, ideal for pairing with a barbequed steak or some chicken.
The brown sugar option below is one you don't have to employ. But I do. I just don't let Suzi see me sprinkling it over the carrots.
---
Balsamic Roasted Carrots
Yield: serves 2
Ingredients:
1 tablespoon olive oil
¼ teaspoon salt
¼ teaspoon ground black pepper
1 8-ounce packet of baby carrots [or full-sized carrots]
2 tablespoons balsamic vinegar
2 tablespoons brown sugar [optional
Preparation:
Preheat oven to 425 degrees F (220 degrees C). Line a 9×13-inch baking pan with aluminum foil.
Combine olive oil, salt, pepper, and carrots in a bag; toss to coat. You can use the carrot bag. Pour the carrots into the prepared baking pan.
Bake in the preheated oven until tender, about 30 minutes. Sprinkle the balsamic vinegar [and brown sugar] over the carrots; shake the pan to coat evenly. Return to the oven and bake until the liquid is absorbed, 5 to 10 minutes. Serve hot.
---
Source: allrecipes.com
Photo Information: Canon T2i, EFS 60mm Macro Lens, F/4 for 1/40th second at ISO‑1000