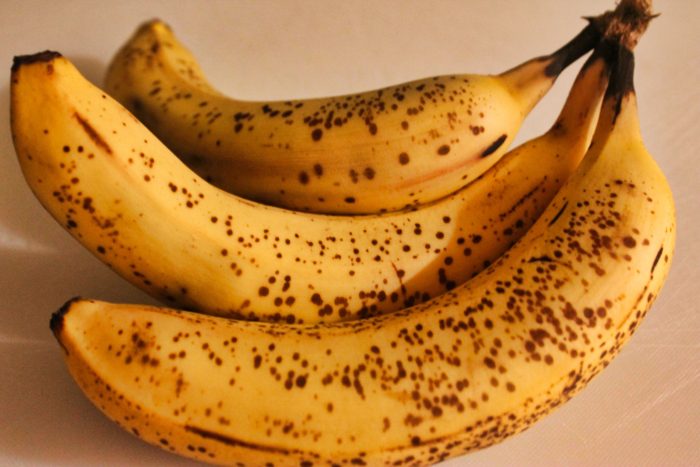 Yes, you can just eat them. And I have no personal prejudice against bananas. But, the combination of bananas and rum, as in Bananas Foster, can certainly capture your attention. This idea comes from The Soda Fountain, a considerably grand source for ice cream treats. The recipe there recommends that you make and eat this recipe. Right away. It's so simple to do, that yes, you could rise from the dinner table, excuse yourself to family and guests, and return in just moments with this sauce. You will draw applause. Maybe you want to double down!
---
Banana Rum Sauce
Yield: 1 ½ cups
Ingredients:
4 tablespoons (2 ounces) unsalted butter
1 teaspoon all-purpose flour
3 ½ tablespoons dark rum
½ cup (3.5 ounces) firmly packed light brown sugar
1 teaspoon pure vanilla extract
2 small to medium ripe bananas (about 9 ounces), mashed to a paste
Preparation:
Melt the butter in a small saucepan over low heat and whisk in the flour. Cook, stirring constantly, for about 1 minute, or until the mixture thickens slightly. Whisk in the rum and cook for 3 minutes, stirring constantly. Add the sugar and cook, stirring constantly, until the sugar dissolves, about 3 minutes. Remove from the heat and whisk in the vanilla and mashed banana, mixing thoroughly. Serve immediately. This sauce is best the day it's made and, since it's a breeze to put together, we recommend making only what you plan to serve right away.
---
Source: The Soda Fountain by Gia Giasullo and Peter Freeman [10 Speed Press, 2014]
Photo Information: Canon T2i, EFS 60mm Macro Lens, F/5 for 1/10th second at ISO‑3200