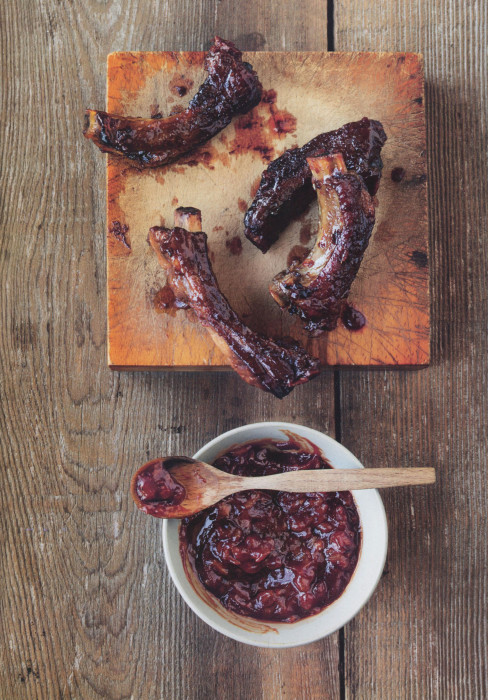 Kim Laidlaw's Quick Slow Cooking is devoted to letting you make the most of your slow cooker. You know, that round or oblong thing high on the top shelf in your garage. You last used it in the previous decade. Or century.
It will clean up just fine. It will. And, if you get your very own copy of Quick Slow Cooking, it will never ever see your garage again. There are dozens of wonderful recipes in Quick Slow Cooking. Like this one.
If it is too cold or too wet still to employ your outside barbecue, but if you have a deep need for sticky baby back ribs, then this is an addiction-saving recipe from Kim you'll use often. You may start to pray for rain. Just so you know, this is a two-day cooking experience with the sauce prepared the night before.
And, besides your slow cooker, you'll use your oven broiler, too, for a quick spin to get the ribs ready for the slow cooker. That's emblematic of Kim's slow cooking approach: use multiple steps and appliances over time to maximize the flavor product of your slow cooker.
This recipe employs 16 ingredients. That reflects Kim's research and experimentation. She wants this to taste just like outdoor-cooked ribs and she's refined this list of ingredients to give you that "authentic" taste and feel. If it is raining for you on this holiday weekend, do not despair. Just do a little shopping and chopping and mixing, then be prepared for those sticky, mahogany ribs you wanted all along.
---
Barbecue-Style Baby Back Ribs

Yield: serves 6

Ingredients:

1 tablespoon canola oil
½ yellow onion, finely chopped
3 cloves garlic, minced
1 cup tomato ketchup
3 tablespoons Worcestershire sauce
3 tablespoons dry white wine
½ teaspoon grated lemon zest
1 ½ tablespoons fresh lemon juice
1 ½ tablespoons firmly packed dark brown sugar
1 ½ teaspoons dry mustard
1 ½ teaspoons chipotle chile powder
1 teaspoon ground cumin
¼ teaspoon celery salt
Kosher salt
1 teaspoon hot-pepper sauce
5 pounds baby back ribs
Preparation:

PREP Up to 24 hours before you plan to start cooking, in a saucepan over medium heat, warm the oil. Add the onion and garlic and cook, stirring, until softened, about S minutes. Add the ketchup, Worcestershire sauce, wine, lemon zest and juice, brown sugar, mustard, chile powder, cumin, celery salt, and ½ teaspoon salt and stir to mix well. Bring to a simmer, then reduce the heat to low and cook very gently, stirring occasionally to prevent scorching, until slightly thickened, 12—15 minutes. Stir in the hot-pepper sauce and taste and adjust the seasoning with more salt and pepper sauce if needed. Transfer the sauce to a bowl, let cool, cover, and refrigerate until ready to use.
Trim the membrane from the back of each rib rack, then cut the racks into individual ribs. Store in a zippered plastic bag or airtight container for up to 24 hours.
BUILD FLAVOR Preheat the broiler. Put a wire rack in a rimmed baking sheet and arrange the ribs on the rack. Broil, turning once, until browned on both sides, 10—12 minutes total.
SLOW COOK Transfer the ribs to the slow cooker, add the barbecue sauce, and turn the ribs to coat evenly. Cover and cook on the low-heat setting for 5—6 hours. The ribs should be very tender.
ASSEMBLE Using a slotted spatula, transfer the ribs to a large platter and cover to keep warm. Pour the sauce remaining in the insert into a small saucepan, let stand for few minutes, and then, using a large spoon, skim off and discard the fat from the surface. Place over high heat, bring to a boil, and boil rapidly to reduce and thicken slightly, 3—4 minutes.
SERVE Arrange the ribs on individual plates and drizzle with reduced sauce. Serve right away.