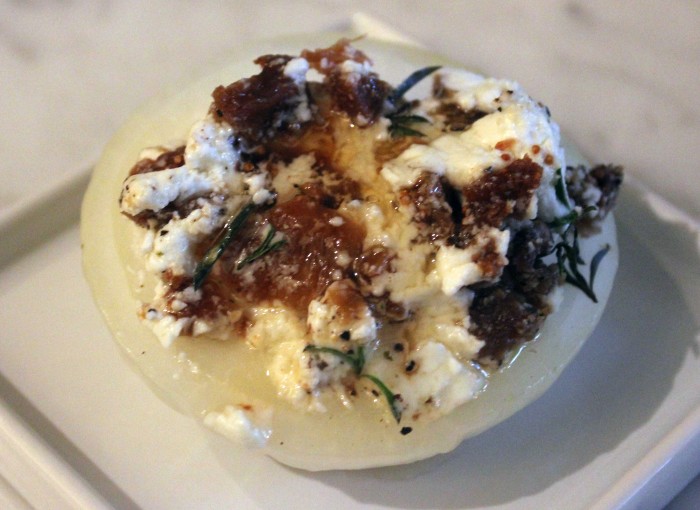 I feel a little guilty. I just ate a steak with a wonderful side dish, a barbecued onion topped with goat cheese and fig and honey. The recipe came from Vegetarian Grilling: 60 Recipes for a Meatless Summer by Karen Schulz and Maren Jahnke. I hope the authors don't mind, but I do want them to know: their 60 recipes are not for vegetarians alone.
Actually, this onion with the goat cheese is so hearty that, in a different world, you could make it the main course and simply pair it with a salad. You should take a look at Vegetarian Grilling for a bounty of interesting ideas that anyone can enjoy, steak eater or not.
This dish can be made in about 30 minutes. It's simple and its presents a combination of textures and flavors that you may not have experienced. Truthfully now, how often do you eat figs? Figs and honey? Ah, you are thinking about it aren't you. Figs and honey and goat cheese? You have to have tried that sometime. You have to.
Okay, you haven't. And now you can. Using the barbecued onion as the foundation for this dish is clever. That onion tang is the perfect mate for the fig and honey sweetness. And the goat cheese adds that distinctive raspy mouth feel that makes this dish seem complicated.
Actually, it is complicated which contributes to its enjoyment.
The recipe call for thyme and goat cheese. You can substitute the herb or herbs that you personally prefer. And the goat cheese gives you additional options. There is plain, "vanilla" goat cheese aplenty, and then there are the other ones. I selected a round from France glowing with herb fragments. Those additional, random herb flavors simply added to the mystery.
---
Barbecued Onions with Goat Cheese and Fig and Honey Topping

Yield: serves 4 people

Ingredients:

2 onions, about 9 ounces each
2 large figs
3-4 thyme sprigs
Salt
2 teaspoons ground peppercorns, mixed colors [red, black, white]
4 ounces goat cheese
Oil for brushing
Honey for pouring over the cooked onions [at least 1 teaspoon per onion half]
Preparation:

Boil the unpeeled onions in salted water for about fifteen minutes. Rinse with cold water and let cool briefly. Peel the onions and cut in half.
Remove the skins from the figs with a sharp knife and finely dice the figs. Remove the thyme leaves the sprigs. Insert some thyme leaves between the onion layers. Salt the onions lightly. Mix the remaining thyme with the diced figs and one teaspoon of ground pepper. Crumble the goat cheese into the mixture, and mix to combine.
Divide the cheese mixture between the onion halves. Place each onion on a piece of oiled aluminum foil, close the foil into envelopes, and grill for about 10 minutes on high heat. Open the foil and drizzle the filling with honey and the remaining ground pepper.
Serve hot.
Source: Vegetarian Grilling: 60 Recipes for a Meatless Summer by Karen Schulz and Maren Jahnke

Photo Information Canon T2i, EFS 60 mm Macro Lens, F/5 for 1/50th second at ISO‑3200