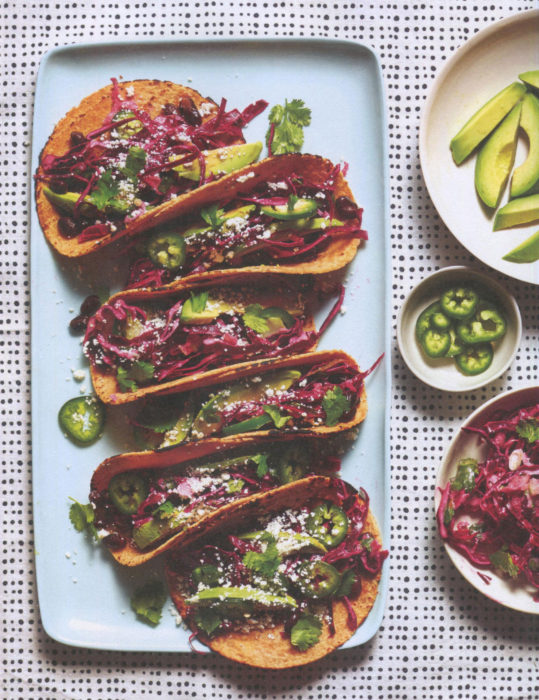 In The Minimalist Kitchen author Melissa Coleman has some wonderful ideas: full of flavor, easily made, and with a touch of surprise. It's not a vegetarian cookbook by any means, but there are recipes like this one that will surely make you smile. Being a vegetarian would not involve great sacrifice when you have flavor bombs like this one.
One of the ingredients is BBQ sauce. You can use your own favorite recipe or grab a bottle from the store. There's incredible range there for flavors and heat level. So, these tacos may never taste the same way twice, but they will always produce satisfaction and smiles.
---
BBQ Black Bean and Quick Slaw Tacos
Yield: serves 4-6 people [12 tacos]
Ingredients:
For the quick slaw:
¼ cup lime juice
2 tablespoons high-quality mayonnaise
2 teaspoons apple cider vinegar
½ teaspoon kosher salt
4 cups red cabbage, thinly sliced
1 cup shredded green apple, segmented orange, diced pineapple, or diced mango
2 thinly sliced green onions
½ cup chopped fresh cilantro
For the beans:
3 (15-ounce) cans black beans, drained and rinsed
Scant ½ cup BBQ sauce
¾ teaspoon kosher salt
For assembly and garnish:
12 (6-inch) corn tortillas
2 avocados, sliced
1 jalapeno, thinly sliced
Crumbled cotija
Preparation:
MAKE THE QUICK SLAW. In a large bowl, whisk together the lime juice, mayonnaise, vinegar, and salt until evenly combined. Stir in the remaining slaw ingredients and toss to evenly coat. Set aside.
MEANWHILE, HEAT ALL of the bean ingredients in a saucepan on medium-low for 5 minutes.
PREPARE THE GARNISHES. Warm the tortillas. Place directly over a gas flame to char the edges. Place on a plate, and cover with a towel to steam. (If working on an electric stovetop, heat the tortillas on a warmed pan, and cover to steam.)
ASSEMBLE THE TACOS. Top the tortillas with the beans and a generous portion of the slaw, and garnish with a couple avocado slices, jalapenos, and a sprinkle of cotija.
---
Source: The Minimalist Kitchen by Melissa Coleman [Oxmoor House, 2018]