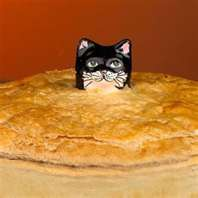 "It's not expensive. Even with shipping from the UK," I said. I wasn't certain what reaction I was going to get.
"No effing way," Suzen said. That's really what I should have expected. "First of all, we are making this pie today. Second of all, I would never have a ceramic cat popping out of my main dish. Or any other."
"It's cute," I tried.
"And you wonder why the British Empire fell?" She returned to cubing the meat.
It was 9⁰F outside yesterday morning. All day, all we could imagine was warm food. Warm comfort food.
It's easy to find a plethora of pie recipes fit for winter days. We first reach for Pie by Angela Boggiano. Now available in paperback, Pie is the clever product of Angela's British heritage and expertise. Yes, London is now filled with the best high-end restaurants in the world. But you know that British cuisine used to be considered fairly basic — and unfairly so. That "basic" food — like all the savory pies in Pie — can be delightfully satisfying.
The recipe below call for a "pie funnel" to somehow support the crust so that it will not rest too closely on the filling and potentially fall or crack. Apparently, in pie-conscious Great Britain pie funnels are common. Some are simple geometric shapes and others, like that adorable kitten in the picture above, are just so kitschy your wife will fume at the mere suggestion of using one.
We did not use a pie funnel this time, but we are considering getting one as we continue to enjoy Pie. We'll probably find some appropriate [i.e. sterile] shape. You can Google and see many images of pie funnel options.
And this pie? Ah, it's a treasure. You could certainly add some other vegetables, say potatoes, letting them join the foray towards the end of the long cooking time — you don't want them to dissolve away cooking for the whole time. The effect of long cooking in beer on that meat is magical. Yes, we did use Dark Guinness.
We've actually made this pie twice. It's tough to stop that first night to have any leftovers, but if you can manage it, then you are in for a true surprise. You know how some dishes are just "better" the next day — like that Thanksgiving stuffing. Well, this pie leads that category. The flavors meld, the hint of beer is reduced, and the overall effect is to elevate to a richer taste.
I suppose the solution is to make two pies, eat one, and then have the second for the next day. Ah, but that would mean needed two pie funnels. I wonder if they make a kitten and puppy pair? I wonder where I would hide them from Suzen.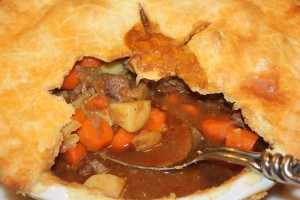 Beef and Beer Pie
Yield: serves 4-6 [leftovers are highly unlikely]
Ingredients:
1 10 ounce rich shortcrust pastry [page 16 in Pie, use your own, I will be blogging this one from Angela, or you can support her work and buy Pie!]

3 ½ tablespoons all-purpose flour

2 pounds chuck steak, cut into 1 inch cubes

2 tablespoons butter

1 tablespoon vegetable oil

2 large onions, thinly sliced

2 carrots, chopped into 1 inch cubes

2 teaspoons Worcestershire sauce

2 teaspoons tomato paste

2 cups Guinness or dark beer

1 ¼ cups hot beef

2 teaspoons sugar

Salt and ground black pepper
Preparation:
Place the flour in a large bowl and season with salt and ground black pepper add the cubes of meat and toss well in the flour until evenly coated.
Heat the butter and oil in a large, heavy-based, flame proof casserole until the butter has melted. Add the meat to the fat in small batches and brown quickly all over for just a minute, then remove with a slotted spoon and set aside. Add the onions and carrots to the casserole and fry gently for about 2 minutes, then return the meat to the pan with the Worcestershire sauce, tomato paste, beer, stock, and sugar. Grind in plenty of black pepper and add a little salt, stir well and bring to a boil.
Cover reduce to a gentle simmer and cook very slowly for 2 hours until the meat is tender and the sauce has thickened and is glossy. Remove from the heat, place in to a 6-cup deep pie dish and leave to cool completely.
Preheat the oven to 400°F.
Roll out the pastry to a thickness of about ⅛ inch. Cut a ¾-inch strip from the rolled-out pastry.
Brush the rim of the pie dish with water and place the pastry strip around the rim, pressing it down. Cut out the remaining pastry about 1 inch larger than the dish. Sit a pie funnel into the center of the filling; it will support the pastry and stop it from sinking in to the filling and becoming soggy.
Place the pastry lid over the top and press down on to the edges to seal. Trim off any excess pasty and crimp the edges with a fork, or between your thumb and forefinger. Brush the top with beaten egg and make a hole in the center to reveal the pie funnel. Bake for 30 to 35 minutes until the pastry is crisp and golden.
Source: Pie by Angela Boggiano [Published by Octopus Books]