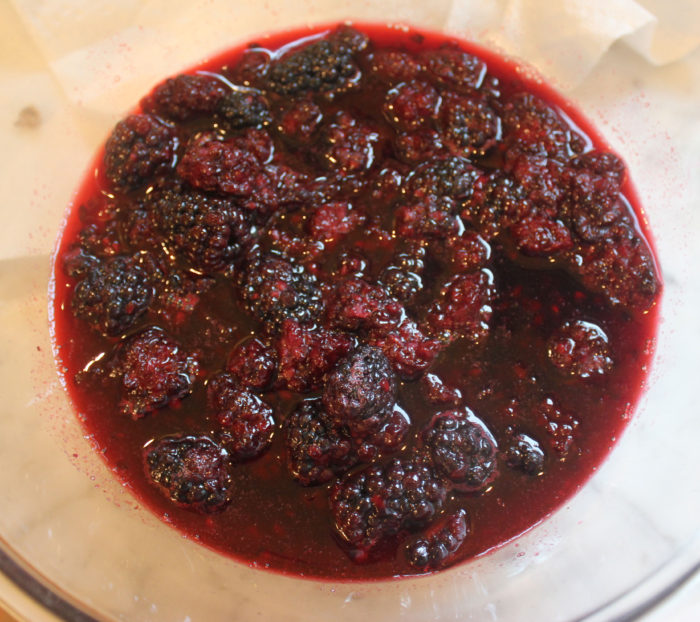 Compotes were created in medieval Europe as a way to extend the life of fruit. Fruit is cooked, and stored, in a sugar syrup. In this recipe, the service life is short: two weeks in the refrigerator, three months in the freezer. But, don't worry, it won't last that long.
We have blackberries in our stores almost year round. This compote, from The Soda Fountain, is for sure an ideal match for ice cream. As a topping on a mound of vanilla or as part of the blender mix for a shake, the blackberry flavor here will be intense.
Alternatively, the compote is a treasure to add to:
Pound cake
Angel food cake
Meringues, large and small
You might even try compote with your breakfast biscuit!
---
Blackberry Compote
Yield: 4 cups
Ingredients:
3 pints fresh blackberries, or 30 ounces frozen blackberries
¼ cup plus 2 tablespoons (3 ounces) cane sugar, or more depending on the tartness of the berries
¼ cup (2 ounces) water
1 teaspoon freshly squeezed lime juice
1 teaspoon honey
Preparation:
Set aside ½ cup of the blackberries. Put the remaining blackberries, sugar, and the Vi cup water in a saucepan and bring to a boil over medium heat. Decrease the heat and let simmer, uncovered for IO minutes. Remove from the heat and add the lime juice, honey, and the remaining V2 cup of the blackberries. Using a potato (or bean) masher, mash the compote in the saucepan 5 times.
Store the topping in covered glass jars or plastic containers in the refrigerator for up to two weeks. The compote may also be frozen, in covered plastic containers, for up to three months. If frozen, allow to thaw in the refrigerator overnight before serving.
---
Source: The Soda Fountain by Gia Giasullo and Peter Freeman [10 Speed Press, 2014]
Photo Information: Canon T2i, EFS 60mm Macro Lens, F/4 for 1/30th second at ISO‑2500