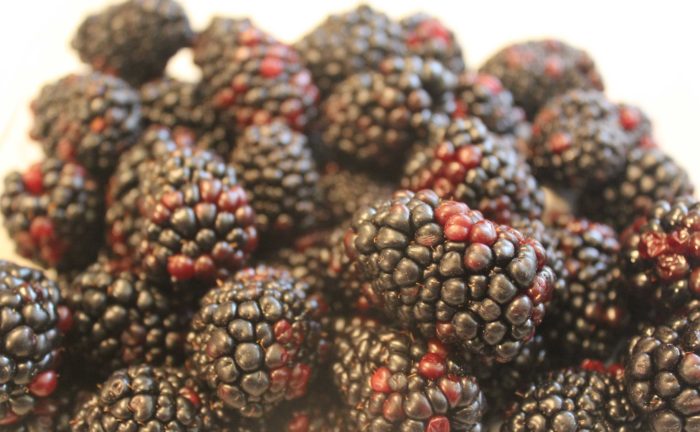 This blackberry season is strange. The berries have come early and they are big, but they lack intense flavor. Perhaps later in the season, with more sun, the sweetness and depth of flavor will emerge.
In the meantime, the berries are already picked. What to do with them? I have a two-part answer. First you make blackberry purée and then you use it in a Blackberry Martini. Today, you get the purée recipe. Tomorrow on Sunday, you'll get the cocktail itself. You've got a day to track down blackberries.
Oh, tomorrow is also Easter, a day of ham or lamb or both. A Blackberry Martini will go smashingly. Let's start with the essential ingredient: the purée.
---
Blackberry Purée
Yield: 2 cups
Ingredients:
2 cups very ripe blackberries
Juice of one large lemon
¼ cup simple syrup or, even better, agave
Preparation:
Place the ingredients in a blender and process for at least a minute. Then, although you have done all the machine work, you still need to use a sieve to strain the mixture. You can press down on the sieve to get every last drop, but you will still be left with gunk.
The gunk goes away in the garbage. The purée can be refrigerated for a couple of days.
---
Source: Wild Cocktails by Lottie Muir [CICO, 2015]
Photo Information: Canon T2i, EFS 60mm Macro Lens, F/4 for 1/50th second at ISO‑3200