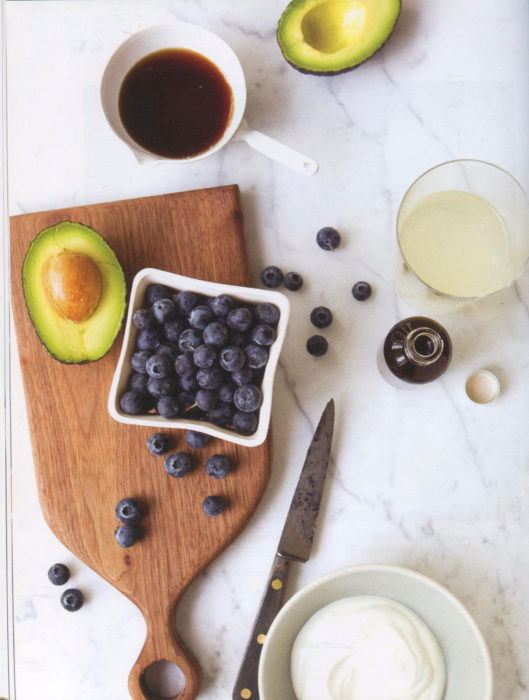 Avocados? Uh, salsa for sure. Sliced into a salad. Maybe a half filled with crab salad. Or, or, a half filled with balsamic vinegar. Excellent idea there. There are oh so many lovely ways to eat an avocado.
Drink an avocado? Well, yes, you can in this wonderful morning smoothie idea from Rise & Shine by Katie Sullivan Morford. Here avocado, blueberries and bananas are mixed in your blender with coconut water and yogurt and a little maple syrup to give you a morning boost that is memorable and quite, quite healthy!
---
Blueberry and Avocado Superfood Smoothie
Yield: serves 3
Ingredients:
1 cup plain kefir or plain yogurt
¾ cup coconut water, plus more if needed
1 frozen ripe banana, cut into thick slices
1 cup fresh or frozen blueberries
1 small ripe avocado
½ teaspoon vanilla extract
1 tablespoon plus 1 teaspoon pure maple syrup
10 small ice cubes
Preparation:
Put all the ingredients into a blender and run until creamy and smooth. Add a splash more coconut water to thin the smoothie, if desired. Pour into 3 glasses.
---
Source: Rise and Shine [Better Breakfasts for Busy Mornings] by Katie Sullivan Morford [Roost, 2016]