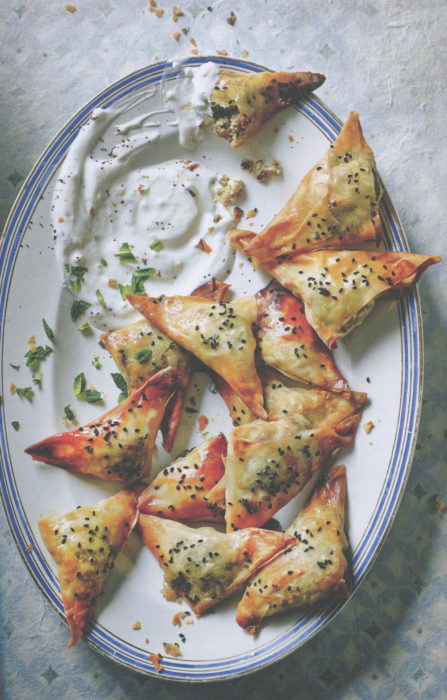 Suzi and I continue our grand tour of Turkey thanks to the recipes of Turkish Delights by John Gregory-Smith. Around the world, there is common love for a particular comfort food: pastry pockets filled with savory or sweet fillings. They can be called hand pies or pocket pies or empanadas. The pastry can be a separate project — I love empanada dough made with softened cream cheese. Or, you can go simple using pre-made phyllo dough for a faster path to pie pleasure.
In Turkey, the dish is called a "borek" and variations of it are found across the nation. Filling can be meat, veggies, cheese or something sweet. Here the filling is savory: lamb, onion, parsley and spices mixed with soft cheese.
The filling you make can, certainly, reflect your own preferences. And what is sitting in your pantry!
---
Borek from Turkish Delights
Yield: makes 10, serves to 4 to 6
Ingredients:
1 tablespoon olive oil
8 ounces ground lamb
½ red onion, finely minced
2 garlic cloves, crushed
Handful of finely chopped flat-leaf parsley leaves
1 teaspoon freshly ground black pepper
½ teaspoon Turkish pepper flakes
9 ounces ricotta cheese
5 sheets of phyllo pastry
1 egg, beaten
1 teaspoon nigella seeds
Sea salt
Preparation:
Heat the oil in a pan over medium heat and cook the lamb and onion for 2 to 3 minutes until the lamb is just cooked through.
Add the garlic and fry for 10 seconds until fragrant. Remove from the heat and transfer to a mixing bowl. Let cool for a few minutes, then add the parsley, black pepper, Turkish pepper flakes, ricotta, and a good pinch of salt. Mix everything together well.
Preheat the oven to 350° F. Take a sheet of phyllo pastry and cut it in half so you have two rectangles. Lay out one of the rectangles lengthwise. Fold up the bottom right corner to form a triangle. Pull it back and place a walnut-sized piece of the filling where it will be covered by the pastry triangle. Now fold up the corner so the triangle covers the filling, then carefully fold this triangle to the left, then down, continuing with the triangle shape. Brush the remaining pastry with egg wash and fold the triangle over itself, closing the gap. Secure any excess pastry down with more egg wash so you have a neat triangle shape. Place on a baking sheet lined with parchment paper and repeat until all the filling is used up.
Brush the tops of the triangles with beaten egg, and top with the nigella seeds. Bake for 15 to 20 minutes until golden and crispy. Let cool for a few minutes before serving.
---
Source: Turkish Delights by John Gregory-Smith