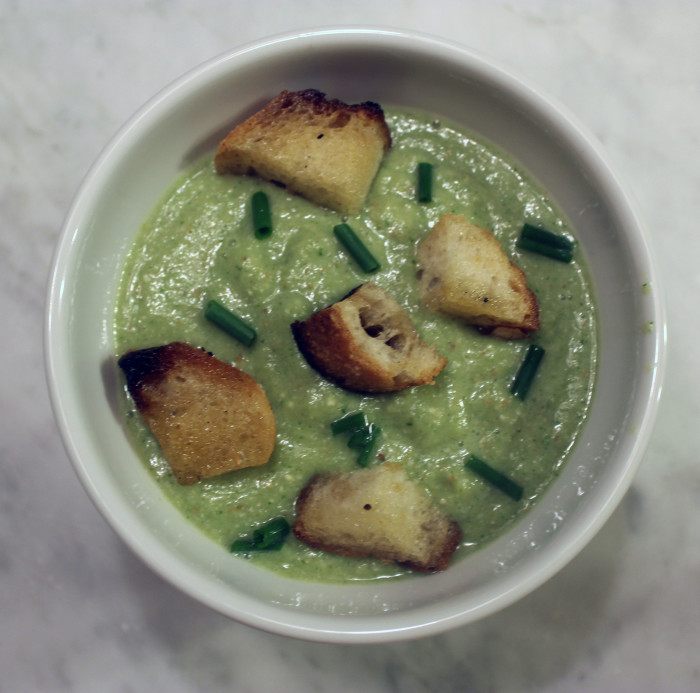 After brownies, after chicken wings, the very first dish I mastered as an adult was gazpacho. I saw a show on public television where tomatoes and a blender and a can of V-8 were converted into a soup. My V-8 days are long past, but I'm into gazpacho as soon as the snow is gone and keep working on them until the frost hits. It's a warm weather treat that lets you forget the heat, the humidity and maybe even the insects.
Along the way, I expanded beyond red gazpacho. There is white and green, too, recipes based on using ingredients like grapes and cucumbers, which do happen to be used here. The green color in this version comes not from the cucumber but from an abundance of cilantro. A lot of cilantro.
This soup is thick to the spoon and to the mouth, because it is true to gazpacho history. The first gazpachos used stale bread, not out of culinary inspiration, but out of necessity. Gazpacho was a meal for the peasant class who were literally stretching out every possible bite of their food supply.
Thing is, today bread in gazpacho is something that many people avoid. And, when they do use bread, there is confusion about how much to use. Just google for gazpacho recipes, and you'll find recommendations from one piece of bread to half a loaf.
In this recipe, I think the bread proportions are ideal. And, rather than soak the bread in water, I use stock. The result is a richer base for the soup and ultimately a more satisfying flavor.
This recipe is an amalgam from a dozen recipes I found in books and on the web. Other ideas, and they are good ones, include using cream, heavy cream, or yoghurt to make the soup richer. You can go that richer route if you prefer, or simply enjoy this more modest style. I like to think this recipe is closer to the roots of the gazpacho inspiration that has served us well for centuries.
---
Brian's Green Gazpacho

Yield: serves 6

Ingredients:

1 cup (100 ml) vegetable stock
Enough slices of a French baguette to line the bottom of a 9X5 inch loaf pan
1 clove garlic, thinly diced
1 pound of seedless grapes
1 cup loose cilantro [not chopped]
Juice of 3 limes
4 chives
¼ cup sherry vinegar
1 cucumber, peeled, seeded, and diced
½ cup (50 g) almonds
2 to 3 tablespoon white wine vinegar
¼ cup extra-virgin olive oil
Sea salt and freshly ground black pepper
Garnishes of your choice: croutons, sliced grapes, sliced cilantro, sour cream, …
Preparation:

Put the stock in a 9X5 inch loaf pan. Line the pan with bread and set aside. The bread will rapidly absorb most, if not all, of the liquid. Wait about 10 minutes, then remove the bread and place in a blender.
Add the remaining ingredients to the blender. Process until smooth, at least 1 minute. Taste and adjust for seasoning, although you'll want to do this again after refrigerating. The cold can affect the taste significantly.
Transfer to a bowl and refrigerate until cold. When ready to serve, stir to mix. The bread may already be making the soup a bit stiff. You can thin it out with a little cold water. The next day, the soup will definitely be stiff and you will need to use this thinning technique.
Place the soup in bowls and serve with garnishes of your choice. At a minimum, you do want some garlic croutons. You really do.
Source: Brian O'Rourke

Photo Information: Canon T2i, EFS 60mm Macro Lens, F/4 for1/30th second at ISO‑320