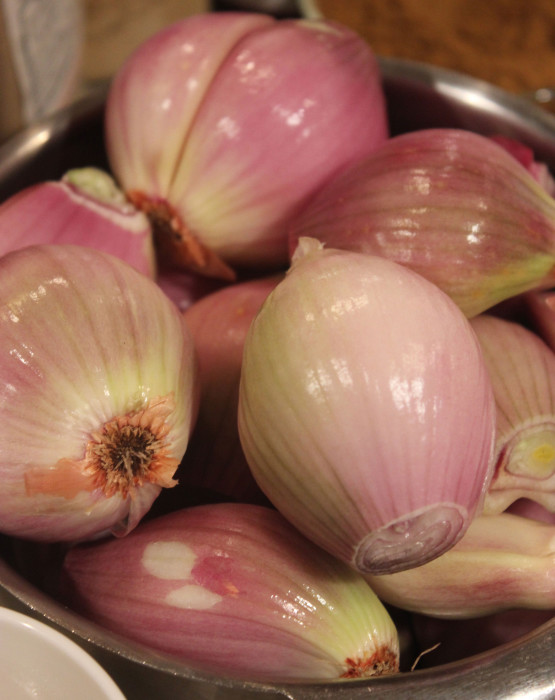 If I ever want to sleep on the couch, all I have to do is eat some raw onion. I like raw onion. Suzen does not.
The compromise is we cook them, and we make them sweet with utilitarian value. On Sunday, you have the Super Bowl and that's a day for snacking. It's an appetizer day. A tapas day. A wings day. Maybe chili. Maybe hot dogs or burgers.
All of those dishes can benefit from onions transformed into marmalade. You can just spoon the marmalade on top of toast or crackers. Add some goat cheese if you wish. Top off that bowl of chile with marmalade instead of sour cream. Or do both. A hot dog with onion marmalade is, well, gourmet to be sure. You might not want mustard.
And, yes, I have made this and devoured it with Doritos. I am shameless. But, I am content.
You'll get about 1 ½ cups of marmalade from this recipe and it will last in your refrigerator for several days, but your football crowd is pretty certain to love this and consume it all.
This recipe is mine, with gratitude towards Emeril Lagasse for the basic recipe. I've added additions from some websites and cookbooks to make a rich, complex marmalade. Here you go.
---
Brian's Onion Marmalade
Yield: 1 ½ cups or so
Ingredients:
2 tablespoons olive oil
2 cups yellow onions, julienned
2 cups red onions, julienned
½ cup water
¼ cups brown sugar [you may stir in more at the end to adjust flavor]
1 teaspoon salt
½ teaspoon fresh ground black pepper
½ teaspoon cayenne
¼ cup distilled white vinegar
2 tablespoons chopped parsley, for color, optional
¼ cup dried cranberries, for color and crunch, optional
Preparation:
Heat oil in heavy medium saucepan over medium heat. Add the onions and sauté and cook until they soften but have yet to change color, 6-8 minutes. Add the ½ cup water, sugar, salt and peppers. Cook using heat until the liquid is mostly absorbed, stirring constantly to avoid any burning, another 6-8 minutes. Add the vinegar and simmer until the marmalade is thick, stirring often, a final 6-8 minutes.
Remove from the stove. Stir in the cranberries and parsley. Season to taste with salt and pepper. Cool, store, enjoy.
The total cooking time here, of up to 24 minutes, may need to be adjusted based on the nature of your onion. The cooking stages here are guidelines. You want marmalade so the final product needs to flow, not to be cooked until it is dry to too sticky. Best way to tell? Taste test, spreading a little on a cracker and adjusting the liquid or seasonings to suit your personal taste.
---
Source: Basic recipe from Emeril Lagasse of the Food Network with many modifications; the cranberries are an idea from Epicurious