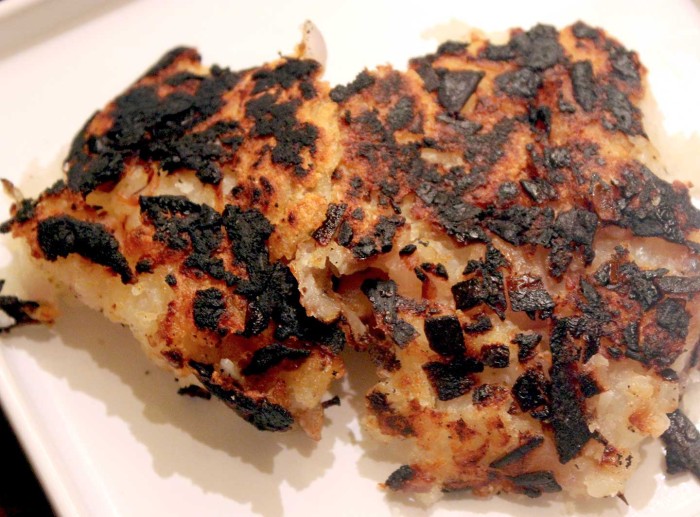 Yes, the picture shows black. Not burned black. Just really, really well done black. It was my first time. What do you expect?
I have made morning potatoes many ways: diced, chopped, sliced, mashed, … But I never shredded before. Never.
After, "I'll take mine black," the most common phrase in diners is "And a side of hash browns." We love them. We devour them. But I had never paid attention before to making them diner style: with the potato shredded.
I have seen packages in the freezer section of shredded hash browns, but I have no idea how they are made or whether they contain, for me, the key side ingredient, onion. Do you how they make the potatoes in frozen French fries? It involves a stainless still grid and potatoes traveling at high velocity.
The technique here, which is quite civilized and not at all industrial, is to first boil the potatoes, so they are cooked, then shred them and add to a pan of cooked onions. That mixture has to constantly tended to, pushed and probed and mounded. I tried to do it, but I was not constantly persistent so, yes, I developed some black spots on the potatoes.
They tasted great.
Into this recipe I have not added the "usual suspects." No hot or Worcestershire sauce. No herbs or chili peppers. No leeks or chives or bell peppers. This is just potato, onion, salt and pepper.
I'm not against putting those other goodies in, and maybe next time I will dabble. But I wanted a pure diner experiences with perfect, simple flavor. That's what I got.
In consulting different recipes, I will admit that my version below has about twice the onion in a "normal" recipe. Actually, a very basic hash brown recipe has no onion at all. I consider that style to be anti-diner and I will not go down that path.
Brian's Hash Browns
Yield: 2 large servings
Ingredients:
2 medium russet potatoes, scrubbed, then peeled
1 medium red onion, peeled, then finely diced
4 tablespoons butter
Salt and pepper
Preparation:
Boil the peeled potatoes, cooking them to the point of "just doneness." The potatoes do not cook that long with the onions, so they have to be boiled well. At the same time, you are going to shred them, and if you overcook them then the shredding process will be ugly, messy, and render you with some odd form of mashed potatoes.
How to test for doneness? A sharp knife should just be able to move through the potato with some modest force. If the knife glides through like it is butter, you've gone too far.
Remove the potatoes from the heat and allow to cool slightly. This, too, will improves shredding.
Put the butter in a cast iron pan and turn the heat to medium-high. When the butter has melted, add the diced onions and stir constantly. When the onions are soft, and well before any caramelization, quickly shred the potatoes and add to the pan. I use the largest setting on our box shredder for this step.
Mix up the potatoes and onions. Then being a pressing and compressing action. Press down and then press in to compress the size of the mound. Keep up this action for 10 to 12 minutes. Try to lift the mound from the sides to prevent sticking — and to enable you to check for any blackening.
Serve hot with salt, pepper, and hot sauce on the side. Leftovers are wonderful the next day.
Source: Brian O'Rourke
Photo Information Canon T2i, EFS 60 mm Macro Lens, F/5.6 for 1/8th second at ISO‑3200