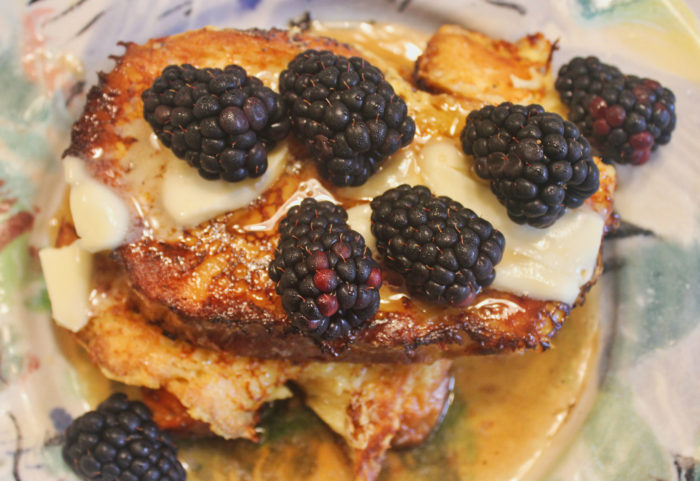 Growing up in Oregon in the 19502, there were only three Sunday breakfasts:
Pancakes

Waffles with Defrosted Frozen Strawberries

French Toast
My mom was partial to pancakes, so most Sundays she talked about the effort making batter. Maybe, maybe once a month we'd get those waffles. More talk from her about the effort she was making. And, once in a great while, like four times a year, we would get that French toast. And we were told how difficult it was.
Well, gee, just look at it. The complex textures and colors of the toast. The thickness of the bread. The richness of the maple syrup at the base. And, of course, those adoring berries on top. Real, fresh berries. NOT defrosted.
I don't know what was wrong with my mom. Well, there was a lot wrong with her, but I never got her French toast story. And the real story is that, of those three dishes, it is the French toast that is the easiest to prepare. Hands down. All you need is milk and whisk.
Vive La France. And the toast, too.
Challah is essential here, or brioche. Used cannot use regular bread. And not, for God's sake, regular sandwich bread. This is breakfast. The most important meal of the day. Protect yourselves. Go challah or go home.
Brian's Rich French Toast
Yield: serves2
Ingredients:
1 ¼ cups milk

4 large eggs

3 tablespoons total of any combination of granulated sugar, honey and maple syrup [I vote for syrup]

1 teaspoon of vanilla extract

1 teaspoon ground cinnamon [optional]

4 thick slices of challah

Butter for cooking and serving

Maple syrup for serving

Berries of your choice, optional
Preparation:
If you are cooking the French toast in two rounds, preheat an oven to 300°F.
Whisk together the milk, eggs, sweeteners, vanilla and optional cinnamon. Pour into a shallow pan, but one deep enough so your slices of challah are covered — so your surface area of the pan must be able to support your 4 slices of bread.
Put the 4 slices of challah into the pan. Press down to assist soaking up the liquid. Wait a minute, then turn the bread upside down so both sides are soaked.
Melt enough butter in a non-stick skillet to have a sizzling layer on your pan. Add your bread, perhaps 2 slices at a time. Cook for 2 minutes, then flip and cook for 2 minutes more.
If cooking in two rounds, keep the first round warm in the preheated oven.
Serve with butter, syrup and berries.
Source: Brian O'Rourke
Photo Information: Canon T2i, EFS 60mm Macro Lens, F/4 for 1/50th second at ISO‑800