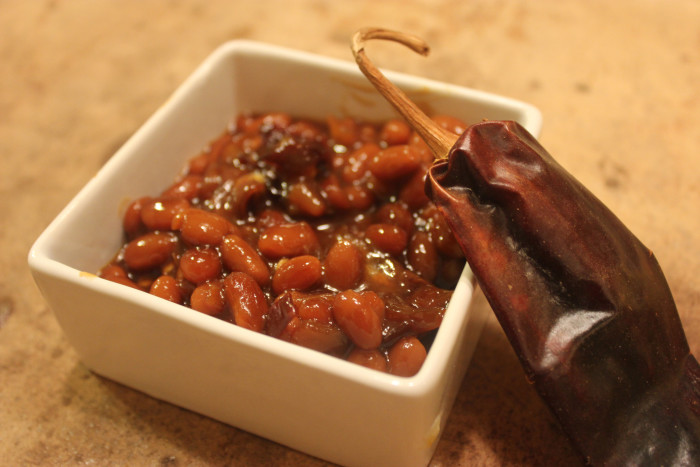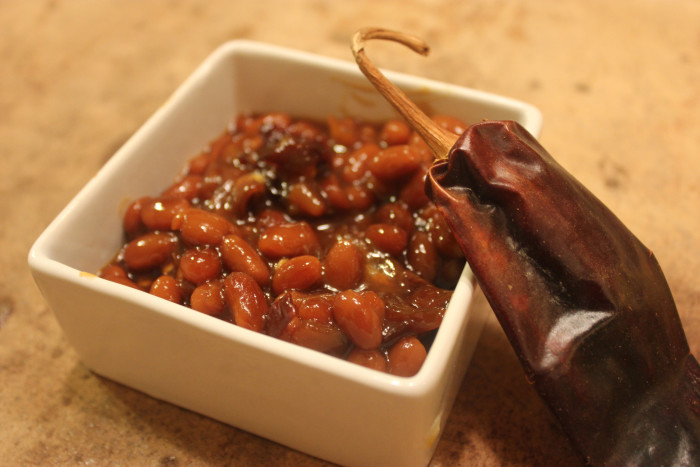 It adds up. You make baked beans once or twice a month. Do that for fifty years and you can righteously claim to have strived for perfection 1000 times or more. It did take me that 1000+ tries but I now state, in full modesty, that these are the best baked bean you have ever had. I may enter a contest or two now, but it would not be fair to the others because there is no contest. These are the best beans ever.
I do cheat, just a little. Bush's makes 17 flavors of baked beans. I just saw a commercial for them tonight. I start with just the regular old original version, nothing added, no chipotle, no bold and spicy, no brown sugar hickory. And, unlike my many past experiments, I'm adding fewer things here and less of each one: no cumin, chili powders, or brown sugar. Yet the flavor is robust, the balance is wonderful. No flavor dominates, but there is a sweet heat that frosts each bean.
The trick here is being minimalist in the ingredients and maximalist in the cooking. You cook these over low heat for full half hour until the liquid is almost gone, the beans are just sticking to the bottom [but not burning!], and the candy-effect is strongly in place.
Try these once and you will always return.
---
Brian's Simply the Best Baked Beans

Yield: 2 to 4, but if it is 4 they are going to be disappointed

Ingredients:

1 dry guajillo chili
Boiling water
3 tablespoons butter
1 shallot, peeled and minced
1 16.5 ounce can of Bush's Regular baked beans
2 teaspoons of dry mustard
⅓ cup dark molasses
Preparation:

Soak the guajillo chili in boiling water for 20 minutes. Remove and dice. Keep the seeds.
In a medium saucepan, add the butter. Over medium heat, melt the butter. Add the diced shallot and cook for 5-7 minutes until slightly transparent. Stir to prevent sticking or burning.
Add the beans, the mustard and the molasses. Stir to mix. Cook over medium-low heat for 30 minutes, stirring regularly. If the liquid is fully gone from the pot, pull the beans so that they do not scorch. Serve hot.
Source: Brian O'Rourke

Photo Information: Canon T2i, EFS 60mm Macro Lens, F/4 for1/40th second at ISO‑1000