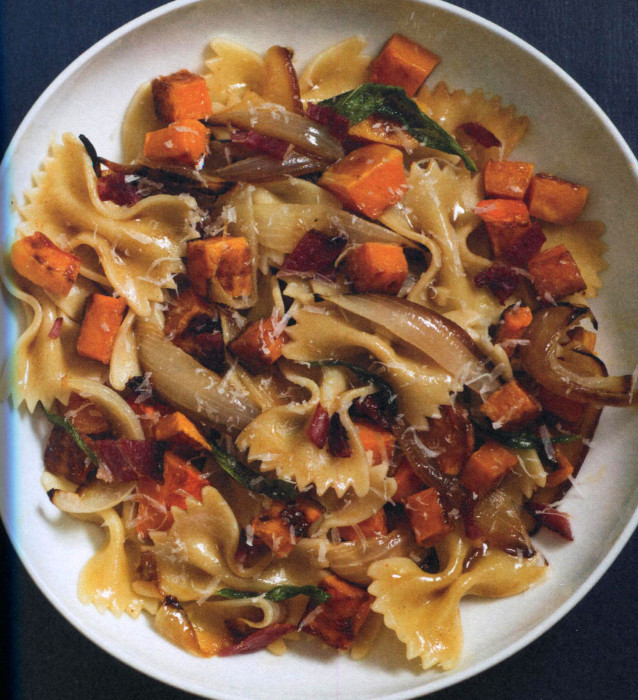 On a winter night what could be more homey, more comforting than a bowl of pasta accented with roasted vegetables, some bacon, and some browned butter. This dish typifies the recipes in The Homemade Kitchen by Alana Chernila. Alana's philosophy of doing it yourself, in your kitchen, surround by your family is one dear to my heart. Here she does prefer homemade pasta but, as we all must do at times, she concedes that store-bought is fine on a busy night.
This dish is an excellent main course. Just add a side salad, a glass of white wine, and you have a meal of substance. Or, this would be an outstanding side dish to roast lamb or pork.
By roasting all the vegetables at once, this dish is easy and quick to prepare. It can be a mid-week treat that offers some squash surprise.
As a post Thanksgiving meal, this dish offers some needed contrast and relief. It offers substance without being overwhelming.
---
Butternut Squash Pasta with Bacon and Sage Brown Butter

Yield: serves 4

Ingredients:

1 small butternut squash, [1 to 1 ½ pounds] seeded, peeled, and cut into 1-inch cubes
1 medium onion, cut into ½-inch wedges
1 ½ tablespoons olive oil
½ teaspoon kosher salt, plus more for the pasta water
4 ounces sliced bacon
1 ¼ pounds homemade bowtie pasta or 1 pound store-bought
4 tablespoons [½ stick] unsalted butter, cut into chunks
10 fresh sage leaves
½ cup finely grated Parmesan cheese
Freshly ground pepper
Preparation:

Preheat the oven to 425°F. In a large bowl, toss the squash and onion with the olive oil and salt. Spread on a parchment-lined baking sheet and roast in the upper half of the oven until the squash is tender and the onions are golden, 30 to 35 minutes.
Meanwhile, lay the bacon on another baking sheet. Bake until crispy, about 18 minutes. Transfer to a paper-towel-lined plate.
While the bacon and vegetables cook, bring a large pot of salted water to a boil and cook the pasta until tender, 7 to 10 minutes for dried, or 2 minutes for fresh. Reserve 1 cup of the pasta water, drain and rinse the pasta, and transfer it to a large serving bowl.
Melt the butter in a small saucepan over medium heat. Stir constantly, keeping a close eye on the color of the butter. When the foam subsides and the butter turns slightly brown, add the sage leaves. Remove from heat and as soon as the sage leaves start to curl, transfer them to the plate with the bacon.
Add the squash and onions to the pasta, then pour the butter over the bowl, tossing to coat the pasta and vegetables. Crumble the bacon over the pasta and top with the crispy sage leaves and the cheese. Pour enough pasta water over the cheese to create a light sauce. Finish with a bit more salt and lots of freshly ground pepper.
---
Source: The Homemade Kitchen by Alana Chernila [Clarkson Potter, 2015]