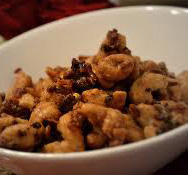 Tomorrow is the 4th of July and many of us will be at or giving parties. After Super Sunday, the 4th is probably the biggest snack day in the USA.
Cashews are the nut I always crave. Peanuts are fine, but cashews have that very special richness and distinctive flavor that you never tire of. By themselves, cashews are a treat. Combine them with bacon in a candy syrup, and you have a snack that will fly off your holiday party table.
Try these as a snack, but also consider them for other uses:
Tossed into a salad
Ground into a powder and used in place of bread crumbs on pork chops
Add-ins to a meat loaf that will make heads turn and lips smile
This recipe calls for sugar, meaning white granulated. For extra flavor, consider using brown sugar or some other exotic sugar. You may need a slight adjustment in the amount of water to achieve syrup of the consistency you prefer.
Candied Bacon Cashew
Yield: 5 cups
Ingredients:
¼ pound slab bacon, cut into ¼-inch slice
½ cup sugar
½ cup water
4 cups raw cashews (1 ¼ pounds)
1 tablespoon unsalted butter
Smoked sea salt
Preparation:
In a small skillet, cook the bacon over moderate heat until browned, about 7 minutes. Using a slotted spoon, transfer the bacon to a paper towel-lined plate. Measure out 1 tablespoon of the rendered bacon fat and reserve
In a medium saucepan, combine the sugar with ½ cup of water and bring to a boil. Add the cashews and cook over high heat, stirring constantly, until golden, about 8 minutes. Stir in the butter and the reserved 1 tablespoon of bacon fat and cook over low heat, stirring for 2 minutes. Remove from the heat.
Stir in the diced bacon and season with smoked salt. Let cool completely, then serve.
Source: Food and Wine Cocktails 2012