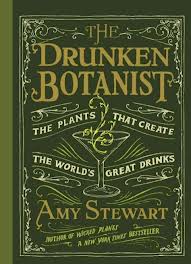 First of all, Amy Stewart has never even been indicted, let alone tried or convicted. But, as a plant specialist she had lived on the edge. In Wicked Plants, she covered poisons. In Wicked Bugs, she listed things to avoid [or use if there is someone …]. Well, that's how we get in trouble, isn't it.
Amy has a new book, The Drunken Botanist, and it's another winner. How do plants help create our beverages? Amy knows.
There are things here you might know about. The Moscow Mule, a combo of vodka and ginger beer, was created in the US in 1941 and is the landmark beverage that got vodka rolling into the number one spirit in this country.
But how do you drink pine, as in tree, as in the Royal Tannenbaum combining gin with pine liqueur. Or Bison grass? It grows in Poland and is harvested, dried and then macerated in rye vodka, zubrowka. Add dry vermouth apple juice for a Bison Grass Cocktail.
There a whole section devoted to licorice and its variants and the liqueurs around the world that use it. And, given that it is springtime, the maidenhair ferns have arrived. What do you do with them? You make syrup. The recipe is below. The book is available everywhere and it worth a browse at the least and more likely a buy.
The syrup technique here is one I had never heard of before. You make a flavored syrup, that will be delicate, and freeze it to preserve the flavor. I'm going to try.
Capillaire Syrup
Yield: 3 cups
Ingredients:
Several stems of fresh maidenhair ferns
2 cups of water
1 ounce orange flower water
1 ½ cups sugar
Preparation:
Bring the water to a boil, and pour it on the fern. Let stand for 30 minutes. Strain and add the orange flower water and sugar. Reheat, if necessary, to dissolved the sugar. It will keep for a few weeks in the refrigerator and longer in the freezer.
Source: The Drunken Botanist by Amy Stewart