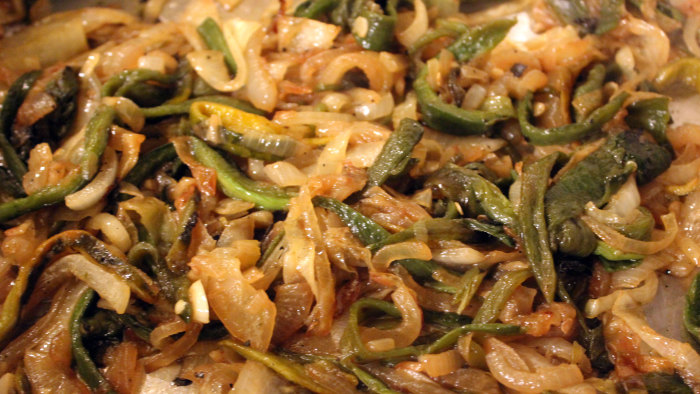 Rajas translates as "strips" and you can see just that in the picture: a maze-like tangle of onion and poblano strips cooked into an awesome flavor extravaganza. You can eat the rajas as a side dish, or put them into scrambled eggs, in salads, atop steak or chicken — see that chicken picture below! If you like onions on your burger, then you will adore rajas.
In the recipe below, the raw poblanos are cut and added to the skillet. But, you can roast the poblanos first to increase their inherent smoky flavor. The two ingredients are merged in the pan, yet the flavors are never confused. There is onion and there is poblano. Each bite gives you onion sweetness and poblano earthiness.
You can make big batches of rajas and store them for several days in the refrigerator. Once you have sampled the flavors here, you are sure to put every strand to perfect use.
---
Easy Poblano Rajas

Yield: serves 4

Ingredients:

2 tablespoons extra-virgin olive oil
1 or 2 medium white onions, peeled, cut into ¼-inch slices, amount up to your preference
2 cloves garlic, thinly sliced
½ teaspoon dried oregano, preferably Mexican
¼ teaspoon dried thyme
2 medium poblano chiles, halved, seeded and thinly sliced
Freshly ground black pepper and salt to taste
Juice of one lime, optional
Preparation:

Heat the oil in a large nonstick skillet over medium-high heat. Add onions and poblanos. Cook, stirring occasionally until crisp-tender and golden, 8 to 10 minutes. Let the onions begin to caramelize to your level of preference.
Stir in garlic and herbs and lime juice. Cook 1 minute. Remove from heat and season with salt and pepper.


Photo Information [top]: Canon T2i, EFS 60mm Macro Lens, F/4.5 for1/60th second at ISO 2500

Photo Information [below]: Canon T2i, EFS 60mm Macro Lens, F/4 for1/30th second at ISO 640