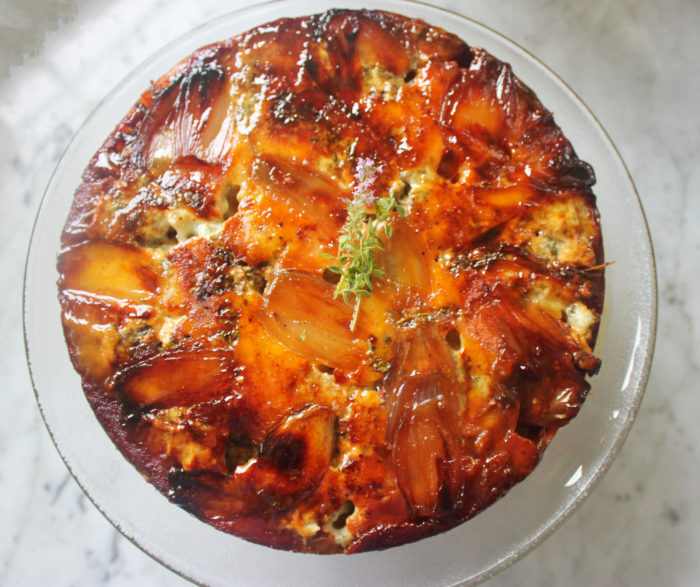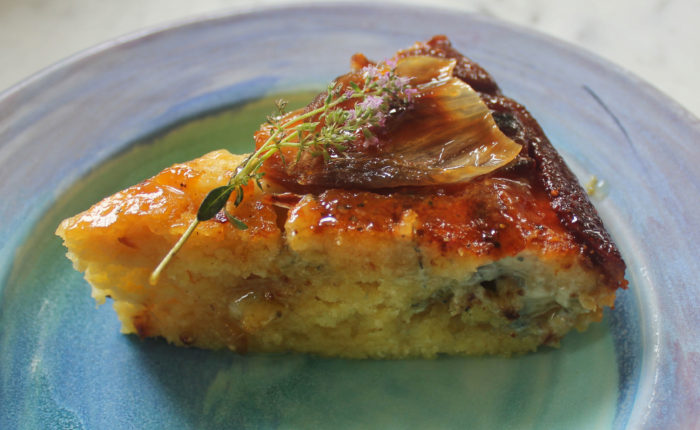 A couple of weeks ago, I got my review copy Comfort: Food to Soothe the Soul. by John Whaite. My review is here and I will repeat myself: this book is essential. It's filled with wonderful ideas, new creative ideas that boggle your mind.
This recipe is a perfect example. I got to this recipe, stopped scanning the book, showed Suzen, got a modest reaction: "Mark that recipe and we're making it this weekend." I did. We did.
I grew up with Apple Upside Down Cake and, worse, Pineapple Upside Down Cake. Awful things, at least at the hands of my mother.
Now, this recipe looks like that upside down cake, it is made that way, but it is hardly a dessert. There's sweetness to be sure, but this is a savory recipe to be sure. And a recipe you have to try. I can imagine this for breakfast. We had it as the main course for dinner with a side salad of arugula, dosed with an intense vinaigrette. A meal to be remembered.
This dish is strikingly lovely. If you make it, take it to the table and carve there. Kinda like the Turkey and Thanksgiving.
Oh, now, there's an idea. This does have a cornbread base. You could serve this instead of conventional stuffing during the holidays. It's that good. You won't be booed, trust me.
---
Caramelized Shallot, Honey and Roquefort Cornbread
Yield: serves 8-10
Ingredients:
For the shallot topping:
8 banana shallots
Leaves from 3 thyme sprigs
2 tablespoons runny honey
1 tablespoon sunflower oil
4 ounces Roquefort
Fine sea salt and coarsely ground black pepper
For cornbread:
5 ounces fine cornmeal
5 ounces self-rising flour
1 teaspoon baking powder
2 ounces light brown sugar
1 teaspoon salt
2 large eggs
1 ¼ cups buttermilk
1ounces unsalted butter, melted
To finish:
2 ounces unsalted butter
2 tablespoons butter
Preparation:
Preheat the oven to 400°F. Grease a 9-inch round cake tin (preferably not loose-bottom) and line with baking paper.
Peel the shallots, halve lengthways and place them into the tin, sliced-side downwards, with the thyme leaves, honey, oil and a good pinch of salt and pepper. Toss everything together, then roast the shallots for 25-30 minutes, until soft and lightly colored. Remove the tin from the oven and allow to cool slightly.
Pull the Roquefort into small chunks and dot these in and amongst the shallots.
For the cornbread, sift the cornmeal, flour, baking powder, sugar and teaspoon salt into a mixing bowl. Beat together the eggs, buttermilk and melted butter in a jug, then fold the mixture into the dry ingredients — I use a balloon whisk – until you have a smooth batter. Pour the batter carefully over the shallots, level out, then bake for 20-25 minutes, until a skewer inserted into the center comes out clean.
Meanwhile, melt the butter in a pan with the honey.
When the cornbread is baked, allow to cool in the tin for 5 minutes, then invert onto a plate and peel off the baking paper. Pour the butter-honey mixture over the top and allow it to soak into the cornbread.
This dish is best served warm
---
Source: Comfort, Food to Soothe the Soul by John Whaite [Kyle, 2018]
Photo Information [top]: Canon T2i, EFS 60mm Macro Lens, F/3.5 for 1/30th second at ISO‑160
Photo Information [bottom]: Canon T2i, EFS 60mm Macro Lens, F/3.5 for 1/30th second at ISO‑100