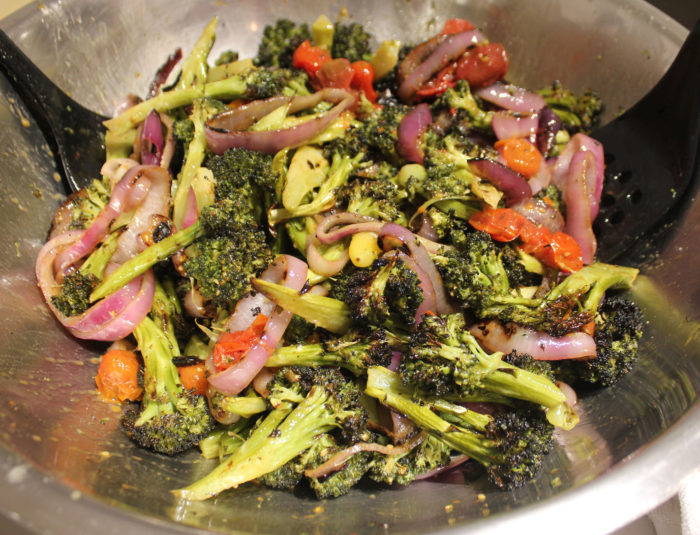 Just stop. Stop. Just because you see the word "broccoli" is no reason to run away. Time to man up here. Broccoli is just a veggie, not a foreign substance from Mars. It's good for you. And, and, you might actually find this salad quite delicious. Pairing the broccoli with the charred onions is a big step to making a dish with intensity.
Try it once and you just may find yourself doing on a regular basis.
Oh, you could add some pinenuts!
---
Charred Broccoli and Red Onion Salad
Yield: serves 6
Ingredients:
2 large heads of broccoli, cut lengthwise into ¾ inch thick steaks
2 tablespoons extra virgin olive oil
Kosher salt and black pepper, to taste
2 medium red onions sliced ½-inch thick
3 medium tomatoes, cut into 1-inch pieces
2 ½ tablespoons red wine vinegar
Shaved Ricotta Salata optional
Preparation:
Preheat an oven to 400 degrees F. Brush the broccoli with oil and season with salt and pepper. Roast in oven, turning once, until lightly charred and crisp-tender about15 minutes. Transfer to a baking sheet and let cool.
Meanwhile, brush the red onions with oil and season with salt and pepper. Grill over moderately high heat, turning once until lightly charred and softened, about 5 minutes. Add the grilled onions; season with salt and pepper. Arrange the broccoli on plates or a platter and spoon the tomato-red onion salad on top. Garnish with Shaved Ricotta Salata serve right away.
---
Source: Suzen O'Rourke
Photo Information: Canon T2i, EFS 60mm Macro Lens, F/3.5 for 1/40th second at ISO‑640