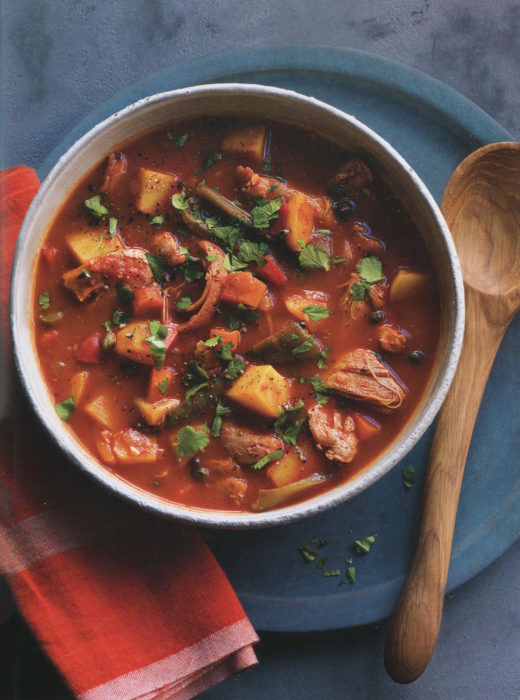 As I mentioned yesterday, Suzi and I are on our last weekend of Spring Break. As I write this on April 5, I'm gambling here that spring has not yet arrived in the East. Yesterday I posted an Irish Stew with lamb.
Today, it is a chicken and potato stew from Mexico. The Irish stew did not have cumin or chipotle or lime or capers. This one does. You might want to make them both and have a flyoff: Ireland or Mexico. Maybe a tasty tie?
This recipe is from Rustic Mexico, a lovely and delicious book in the series from Williams Sonoma.
---
Chicken and Potato Stew
Yield: serves 6
Ingredients:
¼ cup safflower or canola oil
1 ½ pound boneless, skinless chicken thighs
Fine sea salt and freshly ground black pepper
1 small white onion, chopped
1 medium carrot, chopped
1 red bell pepper, seeded and finely chopped
1 teaspoon ground cumin
1 teaspoon dried thyme
6 cloves garlic, minced
2 canned chipotle chiles in adobo, finely chopped
1 jalapeno chile, quartered lengthwise
1 pound Yukon Gold potatoes, peeled and cut into ½-inch cubes
4 cups chicken stock, preferably homemade
3 sprigs fresh cilantro, plus chopped for garnish 1
1 can (14 ounces) crushed tomatoes
3 tablespoons capers, rinsed
Juice of 1 lime
Preparation:
Heat the oil in a 6-quart saucepan over medium-high heat. Season the chicken with salt and pepper and, working in batches, add to the pan and cook, turning once, until browned on both sides and cooked through, about 15 minutes. Transfer to a plate and let cool. When cool enough to handle, using a fork, shred the meat and set aside.
Return the saucepan to the heat and add the onion, carrot, and bell pepper and cook, stirring, until soft, about 8 minutes. Add the cumin, thyme, garlic, chipotles, and jalapeno and cook, stirring, until fragrant. about 2 minutes. Add the reserved chicken to the pan along with the potatoes, stock, cilantro, and tomatoes, and bring to a boil. Reduce the heat to medium-low and cook, stirring occasionally, until the potatoes are tender, about 30 minutes. Add the capers and lime juice and season to taste with salt and pepper before serving, garnished with chopped cilantro.
COOK'S NOTE: To make the dish even simpler to prepare, you can use leftover roast chicken (or pork) shredded into bite-sized pieces in place of the chicken thighs. Simply skip the first browning step and add the leftover meat to the stew as you would the cooked chicken thighs.
---
Source: Rustic Mexican by Deborah Schneider [William Sonoma, 2017]