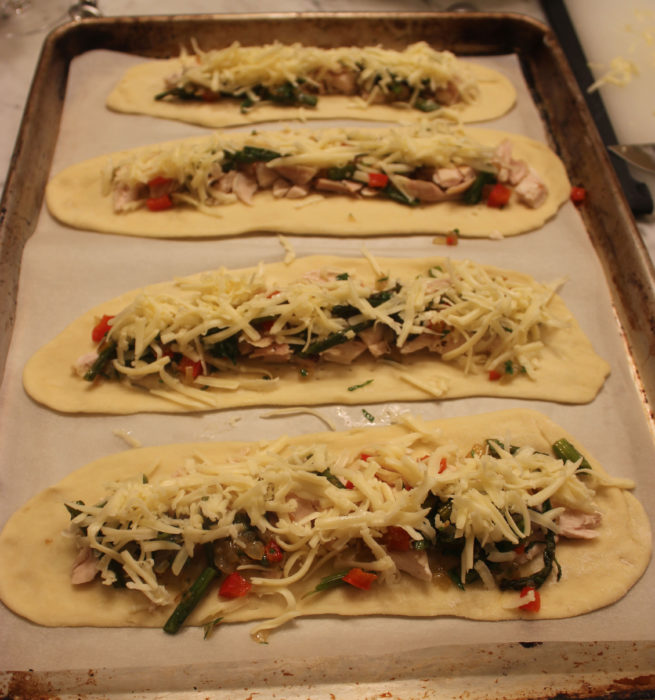 Suzi and I are on a grand tour of Turkey. No, we haven't actually left New York City, but we are wandering the lively pages of Turkish Delights by John Gregory-Smith. Turkey is big, like bigger than Texas. There is far more to Turkey than Istanbul and Turkish Delights takes us all around and through this most important country.
Street food is a culinary center point in Turkey as it is in countries around the world. "Street food" in NYC can often mean a boiled hot dog or, if you are lucky, some pizza. But "pizza" style foods here in NYC are quite distinct to the wonders you can find in Turkey. This dish is called a pide is an unforgettable example.
Here, pide dough — a simple dough made with fine flour, yeast, salt and water — is rolled paper thin in a rectangular shape. The filling, which can be varied to your own preference, is centered and the edges rolled up. The baked pide resembles a boat and literally carries a boatload of flavor. This is NOT thin pizza. It is pide. It is delicious. And surely beautiful.
Ah, the recipe calls for pide dough. I invite you to get your own copy of Turkish Delights for John's recipe for his dough. You can google and find recipes for pide dough, as well as other filling suggestions.
This dish is fun and will trigger your imagination. Yes, you can sin here and use some of those green chilis sitting in little cans on your kitchen shelf. Or those olives. Pile it on. This boat can hold it all.
---
Chicken, Artichoke and Olive Pide
Yield: makes 4
Ingredients:
½ quantity Pide Dough (see the book, page 63) cut into 4 equal pieces
7 ounces cooked chicken, shredded
7 ounces grilled artichoke hearts in oil, drained
⅔ cup pitted black olives, roughly sliced
3 packed cups grated Cheddar cheese
Sea salt and freshly ground black pepper
Preparation:
Preheat the oven to 425°F and line a baking sheet with parchment paper.
Use your hands to form each of the pieces of dough into an oval shape. Dust both sides with flour and roll out into a large boat shape. The dough should be really thin—you should be able to just about see the board through the dough. Once you are there, prick the dough all over with a fork. Carefully place onto the prepared baking sheet.
Arrange the chicken and artichokes down the middle of each pide, leaving a ¾-inch gap all around. Scatter the olives and cheese on top and season. Fold the edges in on themselves all around the pide, so that you have a ⅜-inch border. Starting at one end, and using your thumb and forefinger, squeeze the pastry border together so that it crimps and stands up a little. Do this all the way around and squeeze the two ends together. You should end up with a boat shape. Bake for 10 to 12 minutes, or until the two pointy edges have slightly curled up and the sides are golden. Serve immediately.
---
Source: Turkish Delights by John Gregory-Smith
Photo Information [First]: Canon T2i, EFS 60mm Macro Lens, F/3.5 for 1/30th second at ISO‑200
Photo Information [Second]: Canon T2i, EFS 60mm Macro Lens, F/4 for 1/30th second at ISO‑160