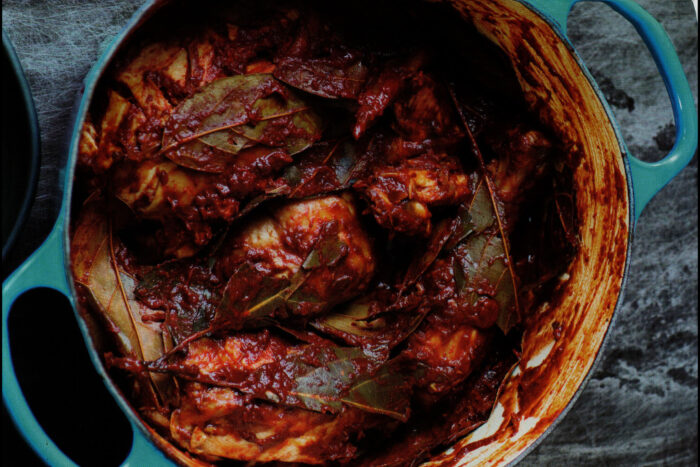 For this Sunday, Super Bowl Sunday, millions of us will be dabbling with Mexican food. Nachos, guacamole, salsas galore, chips by the bagful. What if, instead of a nosh, you could serve a real dish of substance. A savory dish with fire. And avocado leaves – see, it's "almost guacamole."
This Oaxacan dish is often served for holidays, especially Christmas. Now, if there were ever a holiday, it's the Super Bowl.
The dish is not "quick" for you'll be roasting chiles and spices in separate batches. Do just that. Don't succumb to temptation and try to roast all at once. That will produce a muddy mess.
---
Pollo en Barbacoa or Chicken Barbacoa
Yield: serves 4 to 6
Ingredients:
10 guajillo chiles (50 g), stems and seeds removed
10 cloves garlic, peeled
½ cup (50 g) chopped white onion
¼ teaspoon black peppercorns
3 whole cloves
1 sliver of a cinnamon stick
1 tablespoon dried oregano
1 cup (180 g} chopped tomatoes
1/J cup (50 g} tomatillos, husked and rinsed
1 tablespoon sea salt
1 whole chicken (about 2 pounds/1 kg}, butchered into
eight pieces, trimmed of excess fat and skin
10 avocado leaves
Preparation:
Preheat the oven to 375°F (190°C).
Bring 4½ cups (1 L) water to a boil in a medium pot and add the chiles. Turn off the heat and let soak for 20 minutes or until chiles are softened.
In a comal or large cast-iron skillet over medium heat, toast each of the following ingredients separately for 5 to 7 minutes until evenly toasted: garlic, onion, black peppercorns, cloves, cinnamon, and oregano.
In a molcajete or mini-chopper or food processor, grind the garlic, onion, peppercorns, cloves, cinnamon, and oregano as best as you can until finely ground.
In a small pot over medium heat, combine the tomatoes, tomatillos, and ¼ cup water. Boil for 25 minutes or until the tomatillos start to pop.
In a blender, combine the softened chiles, cooked tomatoes and tomatillos, the ground onion, garlic and spices and the salt. Blend until completely smooth.
Put the chicken in a 5-quart Dutch oven or heavy-bottomed pot and add the spiced chile mixture from the blender and avocado leaves. Mix well, cover, and cook in the oven for an hour. The chicken should be fall-apart tender and the sauce should be the texture of a pan sauce. If the chicken still isn't tender, cover and cook for another 20 minutes.
---
Source: Oaxaca by Bricia Lopez [Abrams, 2019]