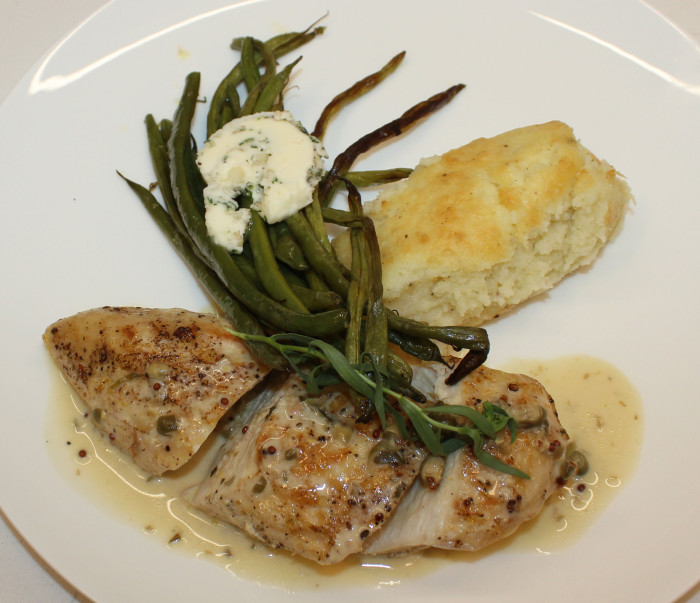 Tarragon is an herb too often neglected. It offers potent, earthy flavors — ones that might remind you of walking through a garden or forest after a shower on a warm day. Use just a little, though. You don't want to destroy the balance of this lovely sauce. The sauce, chicken, herbs and some pungent capers forge a rich meal that can be delightfully paired with veggies and starches. Here the side is a potato soufflé. [Recipe to come!] And, yes, the inevitable haricot vert with a dab of herbed butter.
I've eaten this dish now about 100 times. Suzi offers it to her clients at Cooking by the Book. Teams come into our kitchen and cook meal a meal together, then sit to enjoy it. The big team is broken into smaller groups with each group preparing one part of the meal. The "chicken group" always, always wins the prize for being the best. The chicken is good, the sauce is exceptional.
If you want an elegant weekend meal, this provides all he gradeur you need. And, it's easy.
---
Chicken Breasts with Tarragon, Capers and White Wine

Yield: serves 4

Ingredients:

4 boneless and skinless chicken breasts
¼ cup fresh tarragon leaves
2 tablespoons extra virgin olive-oil
Fine sea salt
1 cup white wine
2 tablespoons capers in vinegar, drained
Preparation:

Cut each chicken breast in half, Cover with plastic wrap and, with a meat mallet or heavy-duty skillet, flatten the meat to about¼-inch thickness. In a shallow bowl, combine the chicken, tarragon, and 1 tablespoon of the olive oil. Cover and marinate for at least 15 minutes.
In a large skillet over moderate heat, heat the remaining tablespoon of oil until hot but not smoking. Add the chicken and cook for about 2 minutes. Season with salt and turn, cooking the other side for about 2 minutes more. Season the second side and transfer to a warm serving platter. Cover with foil to keep warm. Slowly add the wine to the skillet, scraping up any bits of chicken that cling to the pan. Add the capers and boil, uncovered for 2 to 3 minutes or until the sauce is reduced and syrupy. Drizzle the sauce over the chicken.
---
Source: Vegetable Harvest by Patricia Wells