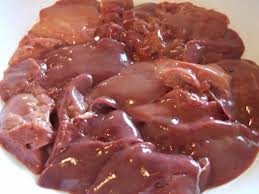 "I'm not sure about this," I said.
"About what?" Suzen asked
"Well, Passover is coming and I found this chicken live recipe and …"
"Oh, good. Let me see."
I showed it to her. She put it down and looked at me. Her face was a torrent: perplexed, puzzled and still curious.
"Okay," Suzen said softly. "I'm in."
"Can we have salsa?" I asked.
"Only if it is kosher."
Chopped Liver Tacos
Yield: 12 tacos
Ingredients:
3 tablespoons olive oil or vegetable oil
1 pound white onions thinly sliced into half moons
2 fresh Serrano or jalapeno chiles, thinly sliced lengthwise [including seeds]
¾ teaspoon kosher salt
1 pound chicken livers, cut into lobes and trimmed of any tough white parts
Freshly ground black powder
2 tablespoons freshly squeezed lime juice
Preparation:
Heat 1 tablespoon of the oil in a large pan over medium-high heat until it shimmers. Add the onions, chiles, and ½  teaspoon of the salt and cook, stirring frequently, until the onions are very soft and browned at the edges, about 8 minutes. Transfer the mixture to a large bowl .
*Generously season the livers on both sides with salt (about ½  teaspoon) and pepper, if you'd like. Heat the remaining 2 tablespoons of oil in the same large pan over high heat. Working in batches to avoid crowding the pan, cook the livers until they're nicely browned on both sides and just barely pink in the center, 3 to 4 minutes per batch. Transfer them to the bowl with the onions as they're done.
Add the contents of the bowl back to the hot pan and cook, stirring frequently and mashing a little, for a minute or two. Add the lime  juice and season to taste with salt.
Serve in warm corn tortillas with finely chopped white onion, chopped cilantro, and the salsa of your choice. The author recommends tomatillo-based salsas. You can search our blog here for recipes.
Source: Tacos, Tortas, and Tamales by Roberto Santibanez