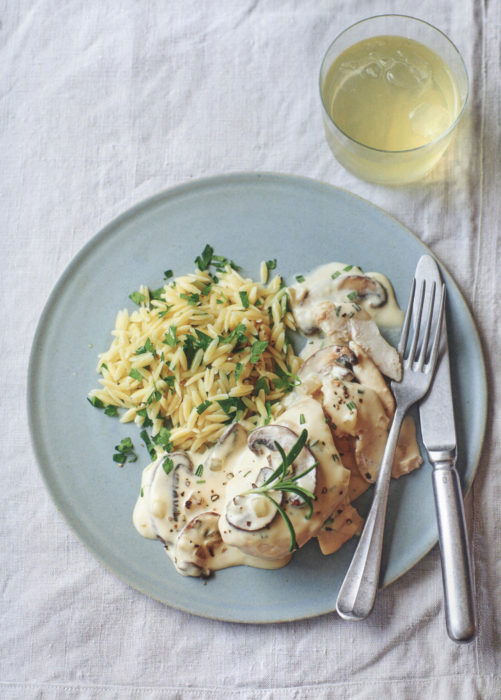 This recipe from Darina Allen will give you a new perspective on chicken. You soak chicken breasts in milk, not buttermilk, to achieve tenderness and moisture. You can eat this directly on the plate or serve over orzo, noodles or fettuccine. Rosemary is used here and you want to be careful with applying it. During the course of the growing season, rosemary can be subtle or it can knock you off your feet. So add a half tablespoon at first, then stir, taste and adjust to suit your rosemary preferences.
---
Chicken with Mushrooms and Rosemary
Yield: serves 4
Ingredients:
For the chicken:
4 organic, free-range chicken breast halves
Milk
1 tablespoon salted butter
1 small rosemary sprig, plus more sprigs to garnish
2 tablespoons chopped shallot or scallion
1 ½ cups sliced white mushrooms
½ cup homemade chicken stock ¼ cup light cream
½ to 1 tablespoon freshly chopped rosemary
Roux [1/4 cup using your recipe of choice]
Sea salt and freshly ground black pepper
For the orzo (optional):
1½ teaspoons salt
1 cup dry orzo
1 to 2 tablespoons salted butter or a drizzle of extra virgin olive oil
Freshly ground black pepper
1 tablespoon freshly chopped flat-leaf parsley
Preparation:
In a dish, just cover the chicken in milk, cover the dish with plastic wrap, and let soak in the refrigerator for about 1 hour. Drain, pat dry with paper towels, and season with salt and pepper.
In a sauté pan, heat most of the butter until foaming, add the chicken, and turn in the butter (but do not brown). Add the rosemary sprig and cover with a circle of wax paper and the lid. Cook over gentle heat until just barely cooked, about 5 to 7 minutes.
Meanwhile, in a skillet, gently sweat the shallot or scallion in the remaining butter. Remove to a plate. Increase the heat, add the mushrooms, season with salt and freshly ground pepper, and cook for 3 to 4 minutes. Add to the shallot or scallion and set aside.
Prepare the orzo: In a large pot, bring 2 to 3 quarts water to a fast rolling boil and add the salt. Sprinkle in the orzo and cook until just tender, 8 to 10 minutes. Drain, rinse under hot water, and toss with the butter or extra virgin olive oil. Season with freshly ground pepper and add the freshly chopped parsley.
When the chicken is cooked, remove to a plate, discarding the rosemary. Add the chicken stock and cream to the saucepan with the chopped rosemary. Bring to a boil and whisk in a small amount of roux-just enough to thicken the sauce slightly. (If the sauce is too thick, add some chicken stock to thin to a light coating consistency.) When you are happy with the flavor and texture of the sauce, return the chicken and mushroom mixture, simmer for 1 to 2 minutes, and season to taste. Serve right away, garnished with rosemary sprigs and with the orzo alongside.
---
Source: Darina Allen Simply Delicious [Kyle, 2019]