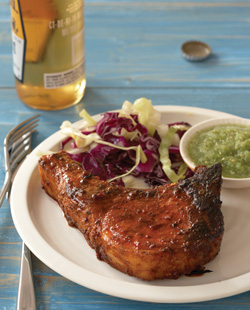 These succulent pork chops are perfect for a small dinner party or family dinner at home. If you have the Red Chile Paste and Fresh Tomatillo Sauce made ahead of time, you will have dinner on the table before you know it. I like to serve these with the Shredded Cabbage & Radish Slaw. Comforting and flavorful-this is sure to become a family favorite.
Serves 4
4 bone-in pork chops, ideally 1 inch thick and 1/2 pound each
1 cup Red Chile Paste (page 100)
Salt and black pepper
2 tablespoons olive oil
About 3 cups beer or water
1 cup Fresh Tomatillo Sauce (page 95)
Marinate the Pork Chops
Slather both sides of the pork chops with the chile paste and place in a large resealable plastic bag. Allow to marinate in the refrigerator for at least 10 minutes (and up to a few hours).
Sear the Pork Chops
Leave a light coating of the chile paste on the pork chops and season with salt and pepper. Place a large, well-seasoned cast-iron or nonstick skillet over medium-high heat, and add the olive oil. When the oil is hot, add the pork chops in a single layer and sear for 2 minutes on each side, or until the meat turns golden brown.
Braise in Beer
Pour in enough beer to barely cover the chops. Cover the pan (top with a piece of aluminum foil large enough to cover the pan if yours does not have a lid) and decrease the heat to a simmer. Cook for 15 minutes. Turn the pork chops over and cook for another 15 minutes.
Reduce the Liquid to a Glaze
Uncover the skillet and increase the heat to medium-high. Allow the liquid to reduce almost completely, flipping the pork chops over every few minutes to ensure that both sides become glazed with the reduced sauce. This should take about 10 minutes.
Serve warm with tomatillo sauce.
COOKING NOTES
INGREDIENTS
Pork Chops
Because bone-in pork chops are more flavorful than boneless chops, I prefer them in this recipe. But feel free to use either one. I also like to use the thick cuts, but the thin ones also work well. Just make sure to decrease the braising time if you are using thin cuts because they will cook in less time.
TECHNIQUES
Braising the Pork Chop
Braising is a technique used to tenderize tough cuts of meat. The meat is first seared to develop a nice golden crust, then simmered in a liquid to cook it through without drying it out. You will find variations of this technique throughout the meat recipes in this book, as Mexican cooking tends to use tougher (and tastier) cuts of meat.
ADVANCE PREPARATION
The red chile paste and tomatillo sauce can be made well in advance (up to 3 days before). Once the pork chops are braised, they can be held, covered, in a warm (250°F) oven for about 1 hour before serving.