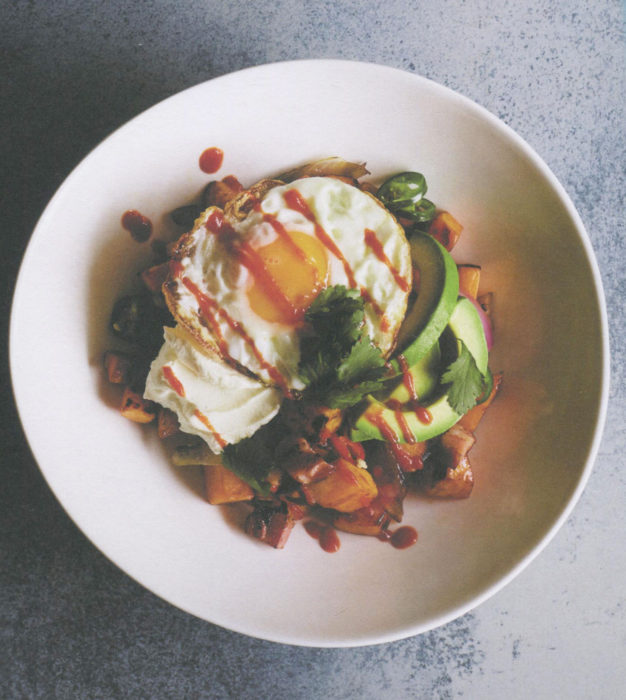 In Breakfast Bowls, Caroline Griffiths suggests better and more complex ways to dive into your breakfast. No more corn flakes for Caroline. There are dishes here from around the world as this Australian based writer demonstrates the diversity of breakfast.
In this dish, there's a little something from almost every continent except Antartica. And, if you use too much hot sauce, a little Anarctic ice might necessary. Any recipe that says "hash" catches my attention. So does one with "chilli" so I did a double take when I saw this idea.
If your breakfasts have been boring lately, there's hope here. Actually, more than hope: an articulation of flavors offers pleasure and a boost for the rest of the day.
Here you cook the bacon with a little water. Why? It's makes for a crispier result. Who knew?
You can see my review of Breakfast Bowls right here.
---
Chili Bacon & eggs with Sweet Potato Hash
Yield: serves 4
Ingredients:
For the dish itself:
7 ounces thickly sliced smoky bacon, cut into half inch pieces
½ red onion cut into thin wedges
2-3 tablespoons olive oi
4 eggs
1 avocado, skinned, stone removed and sliced
For serving:
Labneh or yogurt
Fresh coriander
Finely sliced red or green chili
Siracha or other hot sauce
Preparation:
Combine the bacon with ⅓ cup water in a large heavy-based frying pan over medium-high heat. Cook, stirring occasionally until the water evaporates and the fat renders from the bacon. Cook for a few more minutes until the bacon is very crisp. Remove with a slotted spoon and drain on paper towel.
Reduce the heat to medium and add the onion to the pan, cook for 1-2 minutes or until slightly softened, then remove from the pan with a slotted spoon and drain. Add the sweet potato to the pan along with a little olive oil if the pan is becoming dry. Cook for 15-20 minutes, stirring occasionally, but not too often as you want a crust to form on the sweet potato. When the sweet potato is tender and well browned, return the bacon and onion to the pan to heat through.
When the sweet potato is almost done, heat another frying pan over medium heat with a splash of olive oil. Carefully break the eggs into the pan and cook for 2 to 2 ½ minutes until the whites are crispy around the edges, but the yolks are still runny (or until cooked to your liking).
Serve the sweet potato hash into bowls and top with the avocado and fried eggs. Add a dollop of labneh or yogurt, a scattering of coriander and chilli and, if you like, a squeeze of sriracha.
---
Source: Breakfast Bowls by Caroline Griffiths [Smith Street Books, 2017]