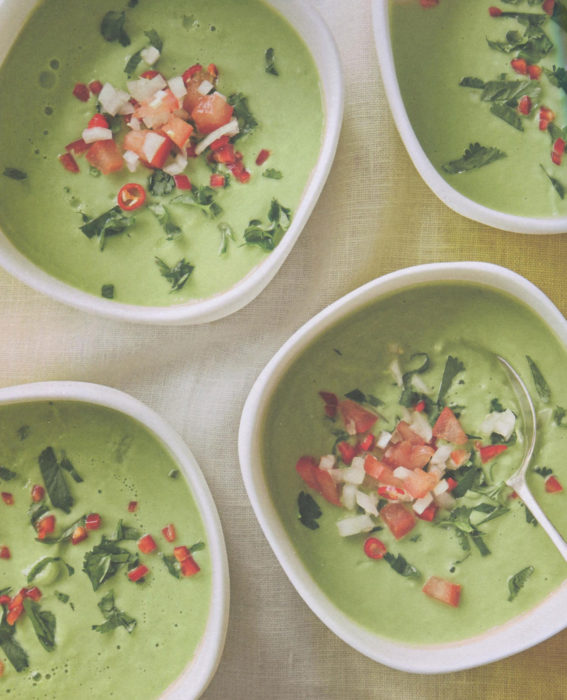 You may recall the story of King Canute, the monarch who went to the beach and commanded the tide to stop coming in. He failed. Hubris.
I have a more reasonable belief. I still wear shorts in November. And I eat summer food. And I do believe I push back the onset of cold days and nights by several weeks. Or days. Or hours.
The transition from summer to winter is hard for many of us. I cling to summer foods. This soup is "summery" to be sure, but you can enjoy it year round. Sitting by a warm fire and getting too hot? Try this refreshing alternative to opening your windows.
You will surely enjoy it and, best of all, it can be made in just a couple of minute. Really!
This recipe comes from the new Leon Happy Soups. Just published, this soup book is packed with refined versions of old friends and a dashing sampling of soup ideas from around the planet. It's a must-own book for any soup fanatic.
---
Chilled Avocado and Cucumber Soup
Yield: serves 4 as an appetizer, 2 as a main
Ingredients:
Juice of 2 limes or to taste
2 avocados, coarsely chopped
Pinch of salt, to taste
1 teaspoon of hot sauce, or more to taste
2 scallions, chopped
1 ⅓ cups cucumber, chopped
1 ¼ cups ice-cold water
Garnish with fresh red chile chopped, cilantro leaves, seeded and chopped tomatoes and shallots finely diced [mix and match these ideas at your pleasure]
Preparation:
Squeeze one of the limes into the jug of a blender, and add all the other soup ingredients. Blitz until completely smooth, adding a little more ice-cold water to thin the soup if it seems too thick. Taste and decide if you would like to add the rest of the lime juice, more salt, or more hot sauce.
To serve, divide among 4 bowls and garnish with the elements of your choosing.
---
Source: Leon Happy Soups by John Vincent and Rebecca Seal [Conran, 2017]