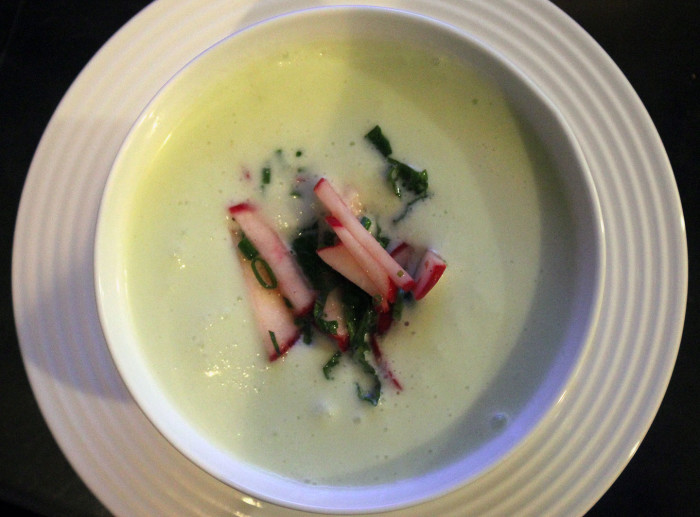 In your first taste you will know that this soup is something special, something deliciously special. This soup has a dreamy quality: some body, yet still thin, the subtle flavor of cucumber but layered with melon, and an underlying tang that you may recognize as yogurt + crème fraiche. Or you may just sit there with your mouth pleasantly filled.
The soup seems pillowy soft. The contrasting salsa has crunch and heat. This is a ying-yang dish par excellence.
The first thing you think about when you taste this soup is how quickly you can secure a second helping. You won't be thinking about the rest of the meal. About that protein scent in the kitchen: chicken, or steak, or … No, you'll be focused on enjoying a flavor combination — cucumber and melon — that you may not have experienced. And I suspect the ratios of ingredients here, with the inclusion of yogurt and crème fraiche, is something you've never enjoyed before.
As grand as the soup is, I'm intrigued at how you might tinker with this recipe. No great changes, but adding some scallions or diced onion, a dash of vinegar, some fresh herbs,… All these changes will have impact, for this soup is first and foremost delicate. So, if you opt to personalize, do so with a light hand. I suggest you start with this basic recipe, because it's truly perfect. I'm just suggesting that, as any foodie would do, you might be inspired to make a better perfect.
Chilled Cucumber-Melon Soup with Radish-Mint Salsa
Yield: 6 cups
Ingredients:
For the Soup:
3/4 cup plain yogurt [not Greek yogurt]
3/4 cup crème fraîche
1 medium seedless hothouse cucumber
1 tsp coarse salt
1 small clove garlic
2 cups very ripe honeydew or galia melon
For the Radish-Mint Salsa:
8 radishes, julienned
1/4 cup chopped fresh mint
1 tablespoon lime juice
1/4 teaspoon kosher salt
1/4 teaspoon pepper
1 tablespoon olive oil
Garnishes:
Sprinkling of snipped fresh chives
A small dollop of yogurt or crème fraîche
Preparation:
For the soup, in a blender, puree 3/4 cup each plain yogurt and crème fraîche, 1 medium-size seedless hothouse cucumber, in chunks, 1 teaspoon coarse salt, and 1 small clove garlic, crushed through a press. Pour into a bowl.
Add 2 cups very ripe honeydew or galia melon to blender; puree. Add to cucumber mixture and stir to combine; chill.
For the salsa, julienne 8 radishes; combine in a bowl with 1/4 cup chopped fresh mint, 1 tablespoon lime juice, and 1/4 teaspoon each kosher salt and pepper. Stir in olive oil.
To serve, ladle soup into bowls and top with radish salsa, a sprinkling of snipped fresh chives, and a small dollop of yogurt or crème fraîche.
Source: Frank Melodia
Photo Information [top]: Canon T2i, EFS 60 mm Macro Lens, F/5 for 1/25th second at ISO-3200