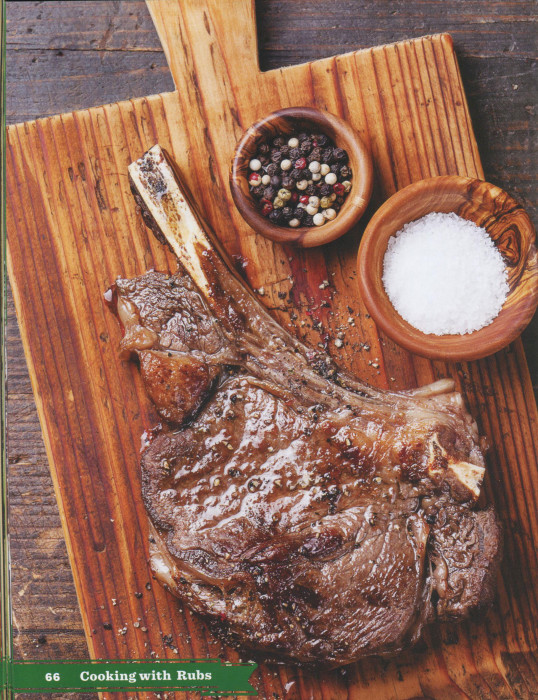 I just posted a very happy cookbook review for Rubs by John Whalen III. In Rubs you'll find over 100 recipes for perfect seasonings: rubs, marinades, and sauces. Plus recipes, like this one, for using those seasonings.
Rubs are an easy, effective and innovative way to add flavor to proteins, from red meat to seafood. Here, a great steak can be made greater. A rub of dried chipotle peppers plus herbs, pepper, cumin and onion powder is applied to both sides of the steak, which rests for an hour, and then hits the grill.
When this steak leaves that grill, the heat definitely remains.
---
Chipotle Rib Eye

Yield: serves 2-3

Ingredients:

For the rub:

2 dry chipotle peppers, seeded and finely minced
1 tablespoon dried oregano
1 tablespoon dried cilantro
1 tablespoon coarsely ground black pepper
2 teaspoons ground cumin
1 teaspoon onion powder
1/2 teaspoon dry mustard
Fresh sea salt
For the steak:

2 bone-in rib eyes, about 1-¼ to 1-½ inches thick
1 tablespoon olive oil
Preparation:

Combine the rub ingredients and mix thoroughly.
Rub a very thin layer of olive oil to both sides of the steaks and then generously apply the dry rub, firmly pressing it all around the steak. Let rest at room temperature for at least 1 hour.
A half hour before cooking, prepare your gas or charcoal grill to medium-high heat.
When the grill is ready, at about 400 to 450 degrees with the coals lightly covered with ash, place the steaks on the grill and cook for about 6 to 7 minutes until blood begins to rise from the tops. When the steaks are charred, flip and cook for 4 to 5 more minutes for medium-rare or 5 to 6 more minutes for medium. The steaks should feel slightly firm if poked in the center.
Remove the steaks from the grill and transfer to large cutting board. Let stand for 5 to 10 minutes, allowing the steaks to properly store their juices and flavor. Serve warm


---
Source: Rubs by John Whalen III [Cider Mill Press, 2016]