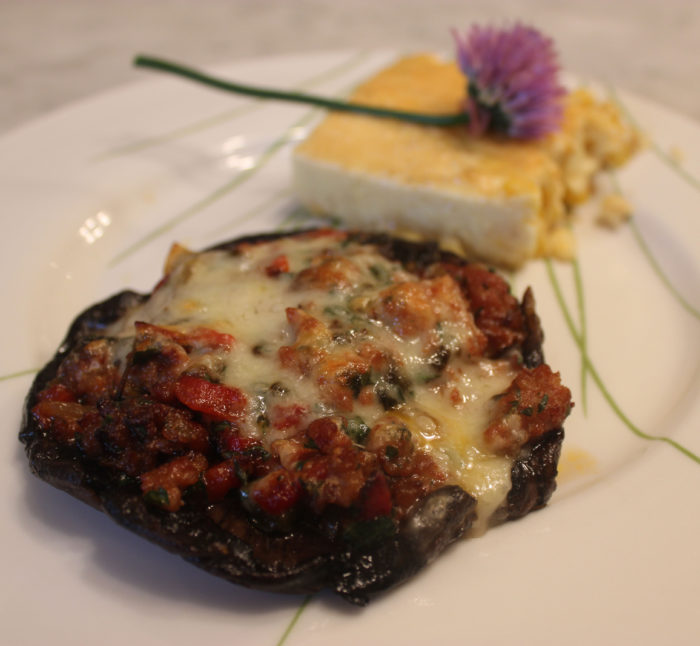 Yesterday I posted a review of Paleo Grilling by John Whalen III. It's a 2015 book but you'll want to find it and give it your consideration. Based on the paleo diet concept, it's meat centric. So, if you are interested in grilled meat — beef, lamb, pork, poultry or stuff that swims — that are fundamental recipes here and some elevated ones, too, that appeal to the foodie in all of us.
Like this one: Chorizo-Stuffed Mushrooms.
Suzi and I had come upstate for the weekend, with our usual 5 lugs of stuff we seem to always have in our "quick getaways" and I found a box of Portobello mushrooms. I already had some chorizo sausage in the fridge.
"Hey," I said, "what about stuffing these mushrooms with some chorizo?"
"We'll have to go shopping again to get chorizo," she responded, enthusiastic about the recipe but not going down the hill to the store.
"No," I assured it. "It's already taken care of."
The recipe below is an amendment of the one in John's book. It was still a bit chilly outside, even late in May, and we did not grill outside. We used the grill on our stovetop. And, rather than use smaller white mushrooms, we used the Portobellos. John's filling uses cherry tomatoes and chicken broth. Suzi substituted habaneros for a drier but sparkier filling. Other than that, we followed John's recipe precisely.
Here are the directions for what Suzi did. I suggest you take a gander at John's book, too, for that recipe will work equally well. In fact, this is one of those recipes you can amend endlessly and always with endless satisfaction.
Oh, in the back of the picture is a yellow side dish. That's Fresh Lemon Corn Custard from Lori Longbottom's Lemon Zest. Yes, I'll post that recipe tomorrow. I cannot describe how perfectly these two dishes marry on your plate.
---
Chorizo-Stuffed Mushrooms
Yield: serves 4
Ingredients:
½ pound of chorizo sausage, skin removed
4 Portobello mushrooms, washed and dried
¼ cup olive oil
1 white onion, well diced
1 habanero pepper, dice and seeds removed or not removed depend on your desires
1 handful of parsley chopped [or cilantro or chives as you desire]
1 cup grated cheddar cheese
Sea salt and fresh ground black pepper
Preparation:
Heat your stovetop grill to 350. Coat the round bottom of the mushroom with olive oil and place on the grill. Cook for about 2 minutes until the mushrooms are deep brown, if not black. Remove from the heat and place on a backing sheet.
While those mushrooms are cooking, add the chorizo into a food processor and puree into a thick paste. Remove and set aside.
Preheat your oven to 350˚F.
Next, add the remainder of the ¼ cup of olive oil to a cast-iron skillet, heat the oil then add the onion and pepper. Cook until the onion is translucent, about 2 minutes, and then stir in the pureed chorizo. Continue to cook until the chorizo is lightly browned, about 3 minutes. Add the parsley, cook for a minute more, add salt and pepper to taste. Remove the mixture from heat.
Using a spoon, add the chorizo mixture into the mushroom caps. Top with the shredded cheese. Put the baking sheet into the pre-heated oven and cook for about 10-15 minutes until the chorizo has browned. Remove from the grill, season with a second round coarsely ground black pepper and fresh sea salt, and serve hot.
---
Source: Suzi O'Rourke with inspiration from Paleo Grilling by John Whalen III [Cider Mill Press, 2015]
Photo Information: Canon T2i, EFS 60mm Macro Lens, F/3.5 for 1/30th second at ISO‑320