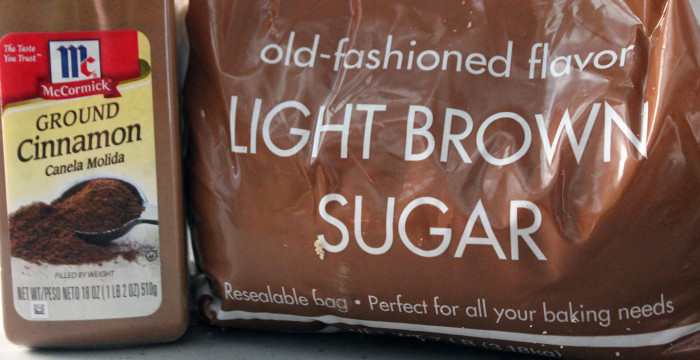 I don't remember when I first had a Cinnamon Sugar Crumb Topping. Maybe a neighborhood bakery there in North Portland. Maybe I my mom was killing a box of Bisquick. I know every other Friday in grade school we had a crumb cake for dessert with that signature spice-and-sugar topping with a crunch. At the end of lunch, when there were extra pieces, I was right there.
Michele Stuart, author of Perfect Pies and now Perfect Pies and More, has shared her ultimate, perfect crumb topping. You can employ this all-purpose topping on the pie or crumb cake of your choice. In fact, I'll be posting Michele's wonderful recipe for Blueberry Crumb Cake tomorrow! This topping is integral to the cake but do consider it any time you have fruit pie on your mind. Easy to make, easily employed, and deliciously consumed.
The great thing about a crumb topping is its ability to provide "completion" to a dessert. That crunch, the immediate intensity of sweetness, the attack of cinnamon on your tongue — all those aspects add to your underlying dessert. With a crumb topping, you really don't need ice cream or whipping cream or some sauce on the side or top. The crumbs do it all. Too bad "crummy" has such negative overtones. This recipe shows that crummy can be just dandy.
Cinnamon Sugar Crumb Topping
Yield: enough for a 9-inch pie
Ingredients:
½ cup unbleached all-purpose flour
⅓ cup firmly packed brown sugar [preferably dark but light is fine]
1 teaspoon ground cinnamon
¼ teaspoon salt
5 tablespoons unsalted butter, cold, and cut into ¼-inch cubes
Preparation:
In a large bowl, mix together the flour, brown sugar, cinnamon, and salt. Using a pastry blender or cutter, incorporate the butter by cutting it into the flour until the butter forms small, pea-sized pieces.
Pair the topping with a traditional pastry pie shell and the filling of your choice. Once the filling has been placed in the pie shell, sprinkle this crumb topping evenly over the filling until it is complete covered. Bake the pie as directed.
Sources: Perfect Pies and More by Michele Stuart