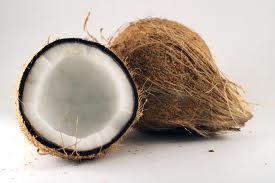 When you first taste this, you just might think it is a kind of vanilla ice cream. But then the back notes hit and your brain begins searching for "what am I tasting." It's coconut, soft and sweet. The flavor here is not over-the-top, smack you in the face. It's subtle. In the ice cream sandwich book Cookies & Cream, this ice cream is paired with a densely chocolate cookie.
But on its own, this ice cream is just wonderful to enjoy one spoonful at a time. For decoration, try a little toasted coconut.
This is a French-style ice cream made with an egg yolk custard, so it is creamy, rich, and totally satisfying. You are welcome, of course, to consider some add-ins as the freezing ends: shredded coconut, mini-chocolate chips, pecans, … You've room to play here so take advantage of a superior ice cream recipe.
Coconut Ice Cream
Yield: 1 quart
Ingredients:
1 ¼ cups whole milk
1 ¼ cups heavy cram
1 15-ounce can cream of coconut
1/3 cup granulated sugar
¼ teaspoon fine sea salt
¼ teaspoon vanilla extract
4 large egg yolks]
Preparation:
Prepare an ice bath by filling a large bowl with ice cubes and 1-2 cups of water. Place a medium bowl fitted with a fine strainer inside the ice bath.
In a medium saucepan, combine the milk, ice cream, cream of coconut, sugar, salt, and vanilla. Set over medium heat, stirring occasionally, until the mixture is warm and begins to stream, about 5 minutes.
In a medium bowl, whisk the egg yolks until light in color. Carefully whisk half of the warm milk mixture into the egg yolks, one ladleful at a time, until the egg mixture is warmed. Whisk the egg-milk-mixture back into the saucepan. Cook and mixture over medium heat, stirring constantly with a wooden spoon, until the mixture is thick enough to coast the back of the spoon and registers about 175°F on an instant –read thermometer, about 5 to 7 minutes. Be careful not to boil the mixture.
Immediate strain the mixture through the fine strainer into the prepared ice bath. Cool the custard in the ice bath until it reaches room temperature, stirring often. Press plastic wrap against the surface of the custard and refrigerate until chilled, about 4 hours or up to 1 day.
Put the chilled custard into an ice cream maker and freeze according to the manufacturer's directions. Transfer the ice cream to an airtight container, press plastic wrap against the ice cream surface, and freeze until it is firm and the flavor is ripened, at least 4 hours.
Source: Cookies & Cream by Tessa Arias
Photo Information: Canon T2i, EFS 18-55mm Macro Lens, F/5.0 for 1/50th second at ISO 3200