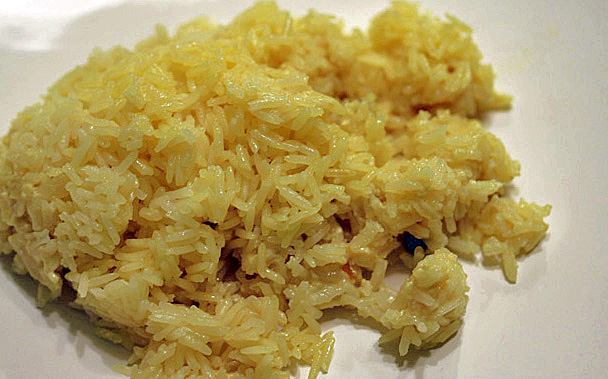 Rice. It is staple food. Just what does that mean? In many cuisines rice is a component you expect to see on every plate, no matter what the main entrée. Particularly in Asian cuisines, rice is there — not just as a base — but as an integral part of the overall dish. Rice adds texture, color, taste, and contrast. Yesterday, I posted about a delicious Green Lamb Curry. It was wonderful by itself but coupled with this Coconut Rice, I had a spectacular treat. I did this combo, a Northern Indian curry with the Southern Indian rice dish, at the suggestion of Madhur Jaffrey.
This is another recipe from At Home with Madhur Jaffrey, a book I can personally and highly recommend to you. If you are intrigued by Indian flavors, want to try to duplicate some favorites from your Indian restaurant down the street, then there is no better place to start than here.
The peppercorns in the recipe are here for flavor and not for eating. If you see one, just push it to the side of your plate. The rice itself is sweet and salty, a good contrast to a topping like that lamb curry.
Coconut Rice
Serves: 6
Ingredients:
3 tablespoons olive or canola oil
½ teaspoon whole peppercorns
2/3 cup finely sliced shallots
2 cups jasmine rice
1 ½ teaspoons salt
½ teaspoon ground turmeric
1 ½ cup coconut milk from a well-shaken can mixed with an equal measure of water
Preparation:
Preheat the oven to 325°F.
Pour the oil into a heavy, ovenproof pan and set over medium-high heat. When hot, put in the peppercorns. Let them sizzle for a few seconds. Add the shallots and stir-fry until they turn reddish brown. Add the rice, salt and turmeric. Turn the heat to low.
Stir gently for a minute. Add the coconut milk-water mixture, turn heat to medium high, and bring to a rolling boil. Cover first with foil, crimping edges, and then with the lid. Place in the oven for 30 minutes. Remove from the oven. Fluff up and mix with a fork and then quickly cover again and leave to rest for 15 minutes.