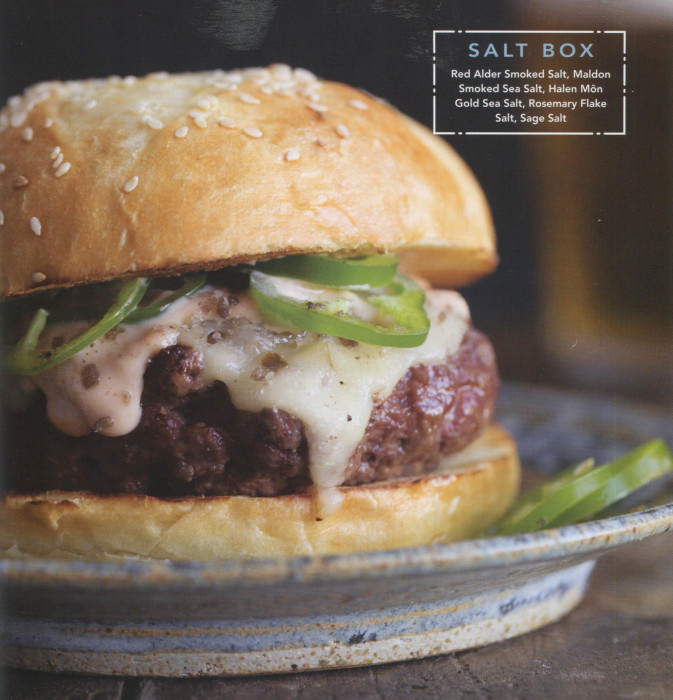 In his wonderful new salt tome, Bitterman's Craft Salt Cookbook, you'll find ideas for using flavored salts for every aspect of your meal. Yes, salt can make your margarita better and salt on top of marshmallow frosting will make the Devils' Food Cake intensely better.
However, let's be real. Meat. Salt is designed for meat, whether beef or poultry or fish. Meat for Americans triggers visions of burgers. Here's a burger idea based on smoke: smoked salt, smoked chipotles. And married with Pepper Jack Cheese and Hatch chiles.
There is smoke here and culinary fire. Be sure to have a beer nearby.
Oh, that note in the picture above is Mark's hint for salt alternatives to his suggested mesquite-flavored salt. You can find my review of Craft Salt right here.
---
Colorado Beef Burgers with Mesquite-Smoked Salt and Chiles

Yield: serves 6

Ingredients:

2 pounds ground beef chuck, 85% lean
5 tablespoons ice-cold water
1 tablespoon chipotle hot sauce, divided
1 ½ teaspoons mesquite-smoked salt
½ teaspoon freshly ground black pepper
¼ cup mayonnaise
Mild vegetable oil, for coating grill grate
12 slices good-quality pepper Jack cheese (optional)
6 hamburger buns, split
6 Hatch chiles, stemmed, seeded, and thinly sliced
Preparation:

Heat a grill for medium-high direct heat (400° to 450°F).
Mix the beef, water, 1 teaspoon of the chipotle hot sauce, salt, and pepper in a bowl until well blended; do not overmix. Gently form the meat into 6 patties no more than 1 inch thick. Pinch a quarter-size dimple in the center of each patty. By making a divot in the center, you end up with a grilled burger that is flat and even, perfect for stacking on the garnishes. Refrigerate the burgers until the grill is ready.
In the meantime, mix the mayonnaise with the remaining 2 teaspoons of chipotle hot sauce. Set aside until ready to use.
Brush the grill grate and coat with oil. Put the burgers on the grill, cover, and cook for 7 minutes, turning after about 4 minutes for medium (150°F for slightly pink). Add a minute per side for well-done (160°F).
If you are making cheeseburgers, put 2 slices of cheese on each burger 1 minute before the burgers are going to be done.
To toast the buns, put them cut sides down directly over the fire 1 minute before the burgers are going to be done. If serving the burgers directly from the grill, serve on buns with sliced chiles and chipotle mayo. If the burgers will sit, even for a few minutes, keep the buns and burgers separate until just before eating.


---
Source: Bitterman's Craft Salt Cooking [Andrews McMeel, 2016]