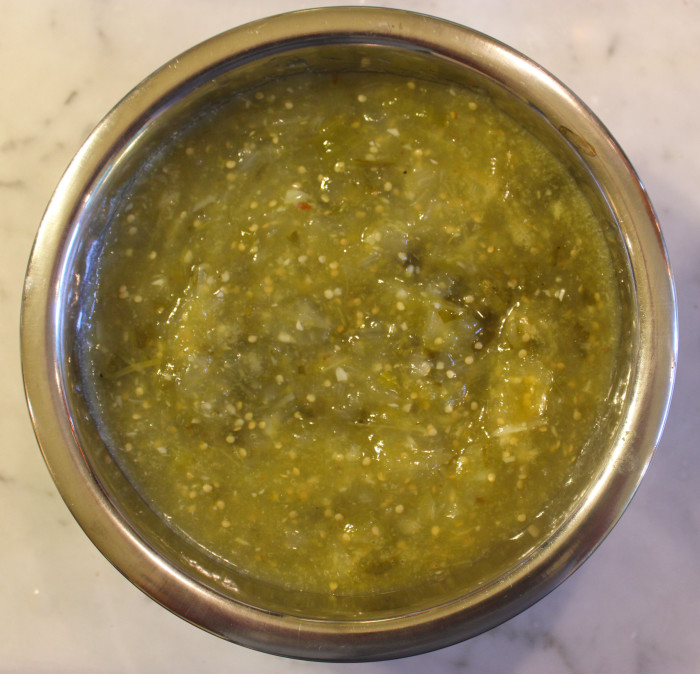 Tomatillo salsas come in two versions: cooked and uncooked. Yesterday I posted an uncooked version, fired by dried arbol chiles. Today, here is a cooked tomatillo salsa, actually twice cooked as you will see. I love this salsa. Uncooked tomatillos attack your tongue with an immediate sharp flavor. Cooked tomatillo offer a deeper, denser flavor that flow around your mouth and provides you, I believe, a much more complex experience.
This recipe is from the Dos Caminos Tacos cookbook by Ivy Stark and does feature this twice-cooked technique that I had not seen before. You begin by boiled the tomatillos to go from raw to cooked — boiled not roasted, and chopped not whole. But you finish, after all the ingredients are merged, by simmering again in a saucepan for another 15 minutes. The flavor is tomatillo to be sure but even more complex than normal.
This salsa is wonderful with chips but its serious richness renders it ideal for spooning over roasted chicken or fish. Inside a taco, it will marry just dandy with ground meat.
---
Cooked Tomatillo Salsa Verde

Yield: 2 cups

Ingredients:

3 small tomatillos, husked, washed and coarse chopped
2 small cloves garlic, split
1 jalapeno, stemmed and coarse chopped [keep the seeds for heat]
1 medium white onion
2 tablespoons chopped cilantro [or more if you desire]
Juice of ½ lime [or the whole lime if you prefer after taste testing]
Fine sea salt
Preparation:

In a medium saucepan, bring 2 quarts of water to a boil. Add the tomatillos, garlic, jalapeno, and onion. Simmer for 7 to 8 minutes, depending on size, and drain. Reserve the cooking liquid.

Transfer the tomatillos to the jar of an electric blender along with the cilantro, lime juice, and salt to taste, and puree until smooth, adding some of the cooking liquid, if needed, to achieve a smooth consistency. Return the mixture to the pan and simmer gently for 15 minutes. Taste to adjust the seasoning, as needed. Remove and serve cool.

Source: Dos Caminos Tacos by Ivy Stark [Countryman Press, 2014]

Photo Information: Canon T2i, EFS 60mm Macro Lens, F/4 for1/30th second at ISO‑640