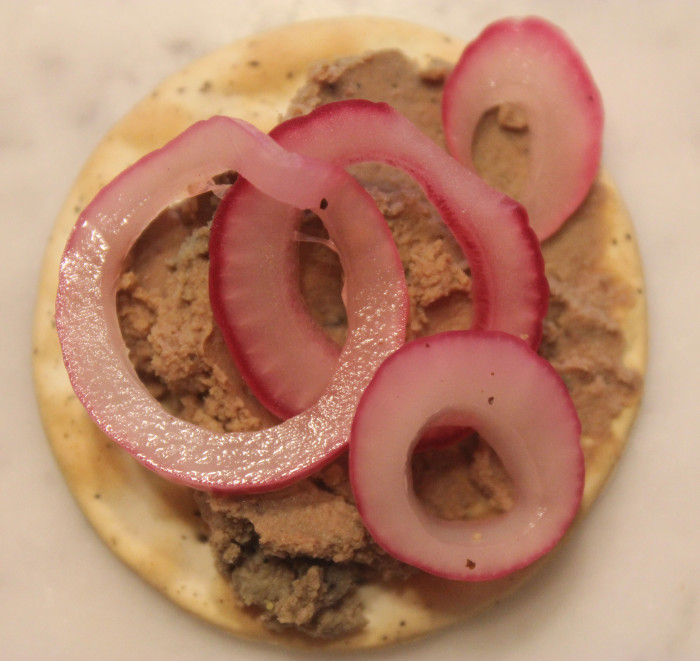 Corinne Trang is a central figure here at Cooking by the Book. She does many things, all of them well: teaching, creating menus, helping clients. But what Suzi and I always wait for is appetizer time. Clients coming into Cooking by the Book for a corporate team building event are greeted with beverages and appetizers. Suzi can make appetizers. I can. No one we have ever met does appetizers like Corinne. [Oh, she can and does cook everything but I think her appetizers are peaks of her brilliance.]
I suppose having written almost a dozen cookbooks helps her. Being half-French and half-Chinese, and equally at home in French or Chinese kitchens, is probably an asset. When she walks into a kitchen, Corinne is exceptionally prepared. Uniquely prepared.
Corinne assembles appetizers in layers of texture, color and flavor. That's the Chinese background shining through.
Look at that picture. A cracker base, some pate — I said she was half-French — and then these wonderful pickled onions. Her secret is, no surprise here, rice wine vinegar.
You can make these onions a mere 30 minutes ahead of time. Or days. There will be a difference: the onions will grow softer and sweeter over time. It's all a matter of what you need and when you have the time to prepare them.
I've always been charmed by Corinne's ability to just walk into the kitchen and turn out the food. These onions are a perfect example.
---
Corinne's Pickled Onions

Yield: ~ 2 cups

Ingredients:

2 cups rice wine vinegar
2 teaspoons sugar
1 teaspoon salt
2 Spanish onions
Preparation:

In a glass bowl, whisk together the vinegar, sugar, and salt. You need to whisk at room temperature. You cannot do this in a saucepan with heat, because it will ruin the vinegar.
Peel the onion and cut into slices. Add to the vinegar mixture, press to make sure each onion ring is covered. Leave on the counter for 30 minutes and use. Or, cover, refrigerate and use in the coming few days.
---
Source: Corinne Trang

Photo Information: Canon T2i, EFS 60mm Macro Lens, F/5.6 for1/100th second at ISO‑2000