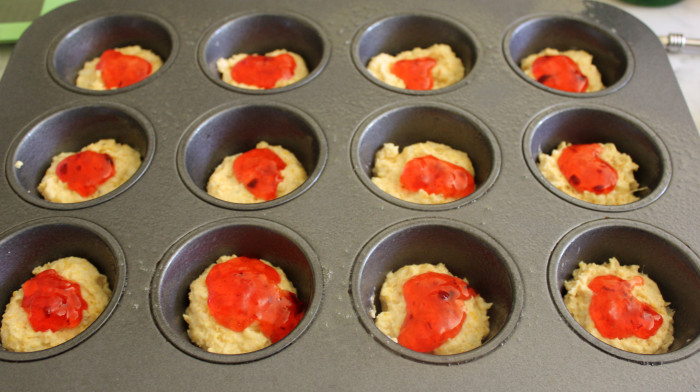 What was your first "surprise" food? If you are like me, it was a Hostess cupcake: chocolate frosting with a vanilla swirl on top over chocolate cake with that gooey white filling. I admit that after the first 100 or so, I stopped being surprised but I was always pleased. I still am.
Here's a morning surprise, a corn muffin dense with corn kernels. And, hidden inside, is some jalapeno fire. For this recipe, Suzi wanted to clean off the shelf so we found a jar of jalapeno jelly that was red but labeled "mild." Mild it was and that was fine, but, personally, next time I'm going to make these with hottest damn jelly I can find.
And, while the recipe calls for a teaspoon or so of hidden jam, I'm going to boost that to a tablespoon. You can see in the picture that the jam just barely peeps out here. I'm happy to have it oozing out all around the muffin. Sticky, hot, and perfect.
Warm, or hot, from the oven these are a breakfast treat that will give your morning a warm kick.
This is one of the lovely recipes you will find in Texas Home Cooking from the Jamisons. It's a tour de force of real, down-home Texas cuisine.
---
Corn and Jalapeno Jam Muffins

Yield: 12 muffins

Ingredients:

1 ¼ cups all-purpose flour
¾ cup medium-grind cornmeal, preferably stone-ground
1 tablespoon baking powder
½ teaspoon salt
¼ teaspoon cayenne
¾ cup buttermilk
¼ cup unsalted butter, melted
3 tablespoons sugar
2 eggs
1 ½ cups corn kernels, fresh or frozen
¾ cup jalapeno jelly or jam
Preparation:

Preheat the oven to 375° F. Grease the muffin tins.
Sift together the flour, corn- meal, baking powder, salt, and cayenne in a bowl, and set it aside. In another, larger bowl, beat together the buttermilk, butter, and sugar. Mix in the eggs, followed by the com, blending well after each addition. Add the flour mixture, and stir to combine lightly.
Spoon about half of the batter—it will be a bit stiff—into the muffin tins, filling each cup just one-third full. Drop a dollop of jelly, about 1 teaspoon, on top of the batter in each cup. Top with the remaining batter completely covering the jelly for each muffin.
Bake the muffins 22 to 24 minutes until they are deep golden. Serve then warm.
Source: Texas Home Cooking by Cheryl Alters Jamison and Bill Jamison [Harvard Common Press, 1993]

Photo Information [Top]: Canon T2i, EFS 60mm Macro Lens, F/4 for1/30th second at ISO‑800

Photo Information [Bottom]: Canon T2i, EFS 60mm Macro Lens, F/4 for1/40th second at ISO‑250