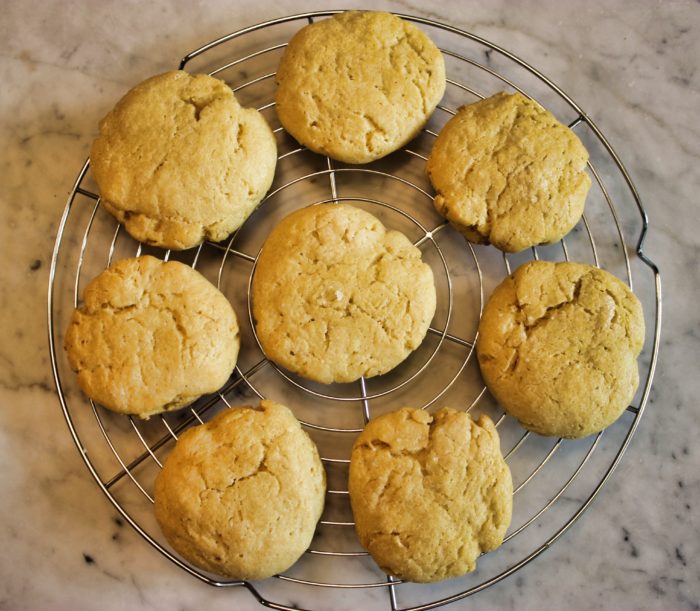 I recently posted a review of a spectacular new cookbook, Istanbul & Beyond. Turkey is a large country, bigger than Texas, with many regions and culinary centers — with a wealth extending far beyond mere Istanbul. At first blush, our American food would not seem to be that different. After all, we use the same ingredients as they do in Turkey. We have same names for dishes. But that actual dish on the table can be quite different.
Consider these "biscuits." Pretty far from Bisquick. First, there is the color: this deep corn yellow. Second, there is the texture: small grains, soft, pillowy. Third, there is the richness: no egg or butter but healthy amounts of both yogurt and crème fraîche. The flavor is, in a word, sublime.
These biscuits are rather flat. You really don't need to put butter on them at all. I did, though, and used some raspberry habanero jam. Outrageous.
These biscuits are just fine for that breakfast boost. But you can employ these at dinner, too. We are having a dinner party tonight and these biscuits will be topped with turkey chili. Suzi and I expect happy faces around the table.
When we made these, Suzi found the dough to be a tad dry, so she added some heavy cream. I've put that into the list of ingredients. What happened? Our flours could have been extra dry, the yogurt in Turkey might provide less liquid, … The biscuits are lovely and you may, or may not, require this modest adjustment.
---
Corn and Crème Fraîche Biscuits
Yield: 12 biscuits
Ingredients:
2 ½ cups corn flour (not cornstarch) or fine cornmeal
½ cup (2 ounces) all-purpose flour
1 tablespoon baking powder
1 teaspoon fine sea salt
1 cup crème fraîche
1 cup whole-milk Greek-style yogurt
Heavy cream as needed
Preparation:
Place the racks in the upper and lower thirds of the oven and heat the oven to 350°F. Line two baking sheets with parchment paper or nonstick baking mats.
Whisk together the corn flour or cornmeal, all-purpose flour, baking powder, and salt it a large bowl.
Whisk together the creme fraiche and yogurt. Add to the flour mixture and use your fingers or a rubber spatula to gently work it in, mixing just until combined. Do not overwork the dough.
Turn the dough out onto a work surface. Divide it in half, then divide each half into 6 pieces. Gently shape each piece into a disk roughly 2 ½ to 3 inches in diameter and lay them on the baking sheets about 1 inch apart, 6 per sheet.
Bake until the biscuits are golden and crackled on top, 18 to 20 minutes. Serve warm, or remove to a wire rack to cool.
---
Source: Istanbul & Beyond by Robyn Eckhardt [HMH, 2017]
Photo Information: Canon T2i, EFS 60mm Macro Lens, F/3.5 for 1/40th second at ISO‑100