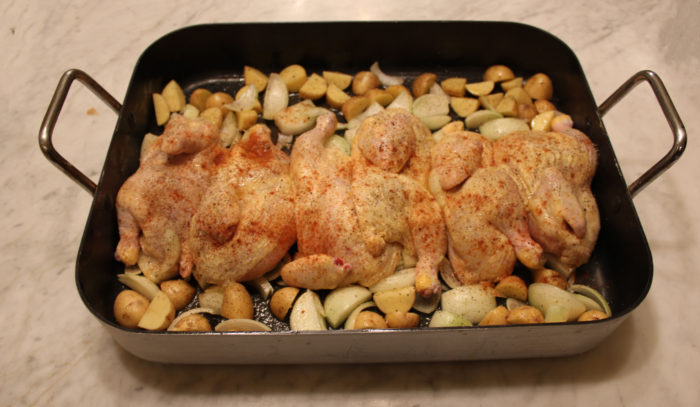 Here are the two most important things about Cornish Game Hens:
[1] They do NOT taste like chicken. The flavor is more intense, far less boring.
[2] They can be prepared with total ease
[3] Yes, this is the third of two things: that easy preparation will still give you a most distinctive flavor
You will find many recipes for Cornish Game hens that call for stuffing them, starting on high heat and later lowering the temperature, basting with broth or broth + wine or with butter or …
Let's say it is a weeknight. You are brain dead and hungry. Here's a simple, easy, restful way to success. No stuffing, no basting, one temperature.
---
Easy Cornish Game Hens
Yield: scale to your need, one bird per person
Ingredients:
Olive oil
1 bird per person, washed and dried
Salt and pepper
Paprika
Onions, as wanted
Garlic, as wanted
Potatoes, as wanted
Carrots, as wanted
Preparation:
Preheat the oven to 375°.
Cover the bottom of the roasting pan with olive oil. Coat each bird with olive oil. Sprinkle with salt and pepper and a little paprika.
Place the birds in the pan.
Surround with diced veggies: those onions, garlic, potatoes and carrots.
Roast for about 45 minutes. Turn the birds once, about 20 minutes in. The birds need to reach 165°. If you need more time for the veggies, pull the birds and tent with foil. When the veggies are done, put the birds back in for 5 minutes of restoration.
When you pull the birds for the final time from the oven, let stand for 10 minutes before carving. Too anxious here? Open the wine. Sip.
---
Source: Brian O'Rourke
Photo Information: Canon T2i, EFS 60mm Macro Lens, F/3.5 for 1/30th second at ISO‑320